CAMPI, TMA sales jump by 31% in 2022
YEAR 2022 ended on a high note for the member companies of the Chamber of Automotive Manufacturers of the Philippines, Inc. (CAMPI) and Truck Manufacturers Association (TMA). In a joint report, the two organizations revealed a consolidated sales total of 37,259 units — 33.8% more than the 27,846 units moved in the same month in 2021.
All told, 352,596 units were delivered in 2022, or 31.3% over the 2021 figure (268,488). It is also the second year in a row that sales have gone up since the pandemic started in 2020.
In a statement accompanying its figures, CAMPI President Atty. Rommel Gutierrez said, "The new motor vehicle sales (figure) in December was the highest monthly performance recorded, which contributed in achieving full-year sales of 352,596 units. With this, CAMPI-TMA sales alone have exceeded the total industry sales forecast of 336,000 units — strong evidence that the industry has recovered from the impact of the pandemic and other external challenges."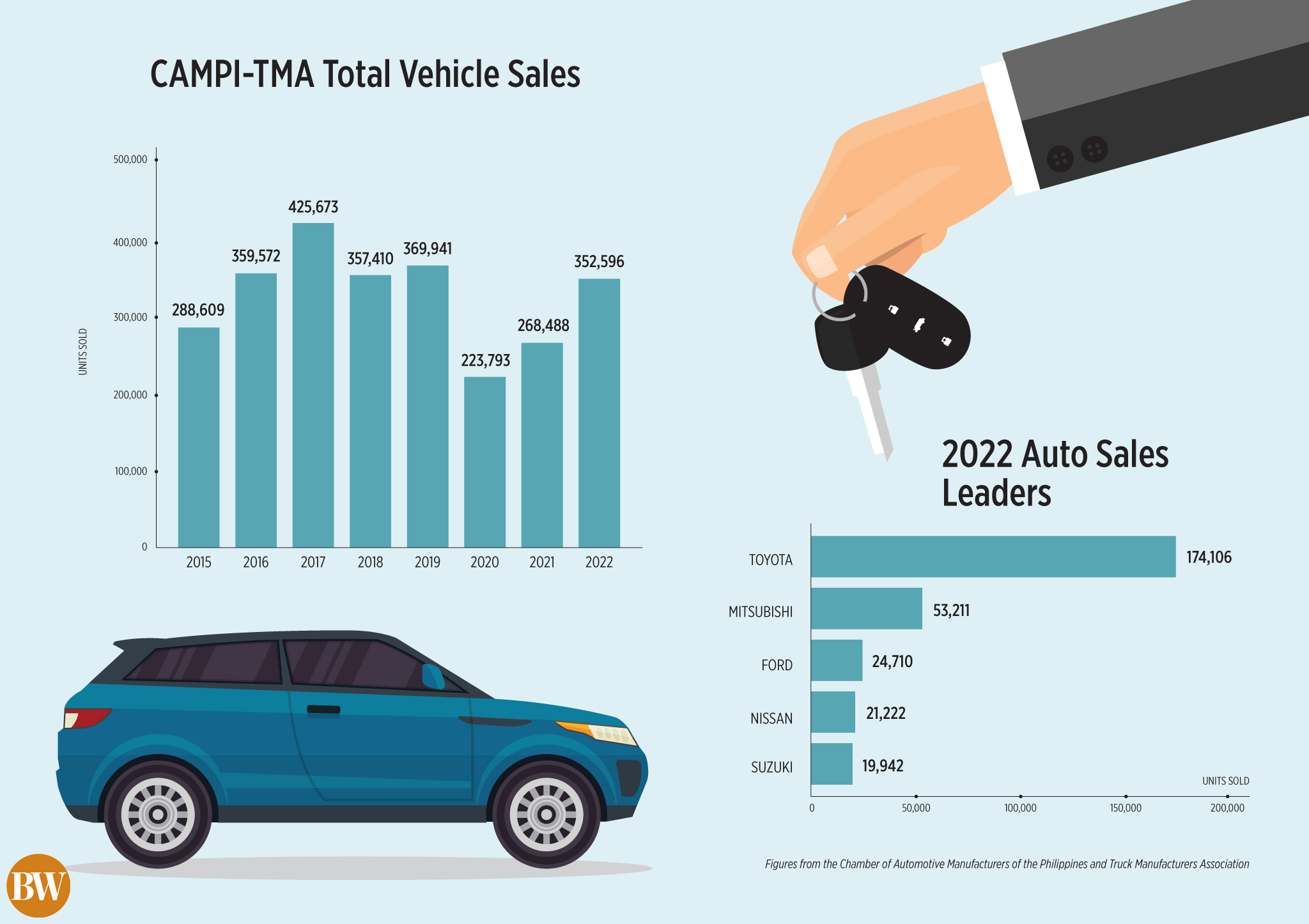 He revealed that the last time CAMPI-TMA companies breached a total of 37,000 units sold in a month was back in 2017. "Achieving it again brings us renewed optimism for a better year ahead for the auto industry."
Toyota Motor Philippines Corp. (TMP) once again leads all brands with 174,106 vehicles sold in 2022, 34.3% more than its 2021 total (129,667). The Japan-headquartered car maker cornered 49.38% of the market. In second place is Mitsubishi Motors Philippines Corp. (MMPC) with 53,211 units sold (15% market share). MMPC sales grew by 41.7% versus its 2021 total of 37,548. Ford Motor Company Philippines moved 24,710 units in 2022 (+23.5% against its 20,005 total the year before). Its seven percent market share is good for third place. Nissan Philippines, Inc. (NPI) is in fourth position with 21,222 vehicles sold in 2022 — 8.3% more than the previous year's 19,603 total. NPI accounted for six percent of sales. Rounding up the top five is Suzuki Philippines (SPH) with 19,942 vehicles sold — up 2.8% over 2021's 19,393 units. The company accounts for 5.6% of total sales.
"The continued expansion of the economy, creation of new jobs and opportunities is just as important as ensuring that no pandemic disruption occurs anew this year. Nonetheless, the industry will continue to capitalize on the growing market demand for new motor vehicles," Atty. Gutierrez concluded. — Kap Maceda Aguila