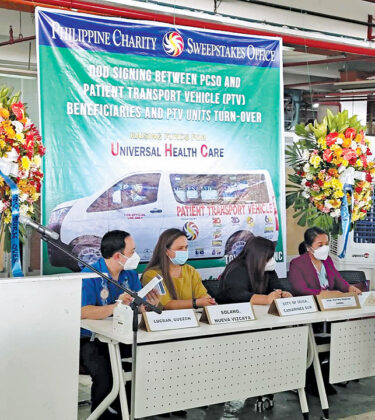 FIFTY AMBULANCES have been released by Toyota Motor Philippines (TMP) to the Philippine Charity Sweepstakes Office (PCSO) — part of a total of 300 units the agency ordered for beneficiary LGUs — in a ceremony held at Toyota Otis. The so-called Patient Transport Vehicles (PTVs) are modified Hiace Commuter Deluxe units.
Present for the signing of the Deed of Donation (DoD) between PCSO and PTV beneficiaries were the officers and representatives of the initial 50 beneficiary municipalities and cities, PCSO Vice-Chairperson and General Manager Royina Marzan Garma, PCSO Charity Assistance Manager Atty. Marissa Medrano, PCSO Assistant General Manager Julieta F. Aseo, and PCSO Special Projects Division Chief Muriel G. Pajarillo.
In her speech, Ms. Garma expressed her appreciation to Toyota for producing high-quality vehicles that can be converted to PTVs to address the medical transportation requirements of LGUs. TMP said the converted Hiace units are guaranteed with the "Toyota Sure Advantage of Quality, Durability, and Reliability." The vehicles meet the requirements of PCSO's Patient Transport Vehicle Distribution Program which provides medical transport vehicles to LGUs nationwide in order to transport patients needing mobility assistance, and healthcare workers while they save lives on the go.
TMP said that with its nationwide dealer network, "LGUs are assured of the accessible care and maintenance for these vehicles, so they can provide dependable service to the community." They may also set their periodic maintenance appointment online through myToyota app or through direct contact with dealer marketing professionals.
For more information, visit https://toyota.com.ph/commuter-deluxe or https://toyota.com.ph/showroom, like Toyota Motor Philippines on Facebook and Instagram, and check out ToyotaMotorPH on Twitter and Toyota PH.