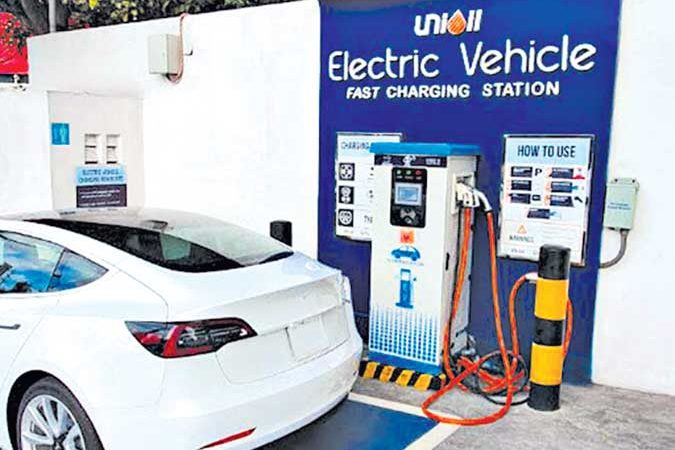 ASIDE FROM being the first independent petroleum company in the Philippines to operate a network of service stations, Unioil is also known as a pioneer of European-standard fuels in the local market. In September 2017, it brought in Euro 5 fuels which contain five times less sulfur than Euro 4 fuels — 10ppm compared to 50ppm.
"Unioil believes that climate change is a real threat that we must try to de-escalate through sustainable practices," the company said in a release. Unioil doubled down by launching its "Doing Our Part" campaign in November 2017, where it implemented several ways to reduce the carbon footprint of its business operations.
Unioil established solar-powered "hybrid" service stations, the first of which is on Congressional Avenue Extension, Quezon City. The station is equipped with solar panels from Smartflower, a global leader in "intelligent solar energy." These are 40% more efficient than conventional panels. Each unit reduces the company's carbon footprint by 4.7 metric tons annually — equivalent to planting approximately 5,000 trees per year. The second such facility opened in June 2018: Unioil Guadalupe EDSA Makati. These EV charging stations are equipped with three charging protocols — compatible with most Japanese, European, and American electric vehicles.
The energy company also encourages cashless payments through its mobile app. The Unioil Mobile App, launched in July last year, provides a "seamless mobile experience" for its consumers' digital needs. Cashless and contactless payment features are especially helpful during the pandemic, the firm said, and the app is offered to both new and existing Unioil Loyalty cardholders.
The company has also been monitoring air quality data since 2016, through the placement of air-monitoring equipment in key cities in the country. Some 26 stations provide live data on air quality to the public, free of charge, through https://www.airvisual.com.
These efforts were recognized and welcomed by the Department of Environment and Natural Resources-Environment Management Bureau (DENR-EMB) back in 2017. Today, the data Unioil gathers are used to support the air quality monitoring component of the Philippine Clean Air Act.
Because of this, Unioil was awarded as a "Clean Air Champion" by the Clean Air Philippines Movement, Inc. (CAPMI). This recognition is given to individuals and entities whose initiatives help reduce pollution and promote clean air.