Treasury bill rates to inch lower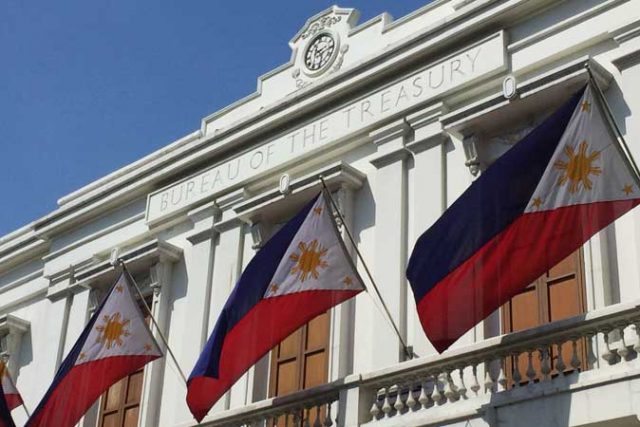 RATES OF Treasury bills (T-bills) on offer on Monday will likely move sideways or edge lower after inflation eased slightly last month and amid uncertainty on whether current quarantine measures would be tightened further.
The Bureau of the Treasury (BTr) is looking to raise P25 billion in fresh funds via its offering of T-bills on Monday, broken down into P5 billion from 91-day papers, P8 billion via 182-day debt and P12 billion in 364-day instruments.
Noel S. Reyes, first vice-president and chief investment officer at Security Bank Corp., expects T-bill yields to move sideways or lower.
"Inflation last month came out softer and oil prices are also consolidating off the highs which allowed longer dates to also ease off from their steepness," Mr. Reyes said in a Viber message on Sunday.
A bond trader likewise said the rates of the short-term debt papers could move sideways or go down by up to 5 basis points (bps).
The trader said investors will monitor if inflation will continue to ease in the next months and move within the central bank's 2-4% target.
"The still increasing number of COVID-19 (coronavirus disease 2019) cases also played a role and fuels speculation on whether the government will extend ECQ (enhanced community quarantine) for Metro Manila. If ECQ is extended, that would help demand for T-bills," the trader added.
Headline inflation slowed to 4.5% in March from 4.7% in February mainly due to a slower increase in food prices, the Philippine Statistics Authority (PSA) said last week. However, the February print was still higher than the 2.5% seen in March 2020 and beyond the 2-4% annual target of the central bank.
Meanwhile, Malacañang had not announced the new quarantine measures for Metro Manila and nearby provinces as of this writing. The capital, along with Bulacan, Cavite, Laguna and Rizal, have been under the strictest form of lockdown since March 29 as coronavirus cases continued to climb.
On Saturday, the Health department reported 12,674 new COVID-19 infections to bring the total count to 853,209. The death toll hit 14,744 after 225 new deaths were recorded that day.
The Treasury fully awarded the P25 billion T-bills it offered last week from P67.49 billion in total bids.
Broken down, it raised P5 billion via the three-month papers as tenders reached P12.65 billion. The average rate for the 91-day debt papers went up to 1.295% from 1.269%.
Meanwhile, it borrowed P8 billion as planned through 182-day T-bills as demand hit P16.712 billion. The six-month papers fetched an average rate of 1.646%, up from 1.609% previously.
Lastly, the Treasury made a full P12-billion award of the one-year securities auctioned off from total bids of P38.126 billion. The average rate of the one-year debt stood at 1.912%, down from the previous week's rate of 1.926%.
The trader added that the debt market could also react to the dovish tone of the minutes of the US Federal Reserve's latest meeting released last week, as the central bank said it will continue to support the recovery of the world's biggest economy.
The Treasury aims to raise P170 billion through the local bond market this month: P100 billion via weekly offerings of T-bills and P70 billion from fortnightly auctions of Treasury bonds.
The government is looking to borrow P3 trillion this year from both domestic and external sources to help fund its budget deficit, which is seen to hit 8.9% of gross domestic product. — B.M. Laforga