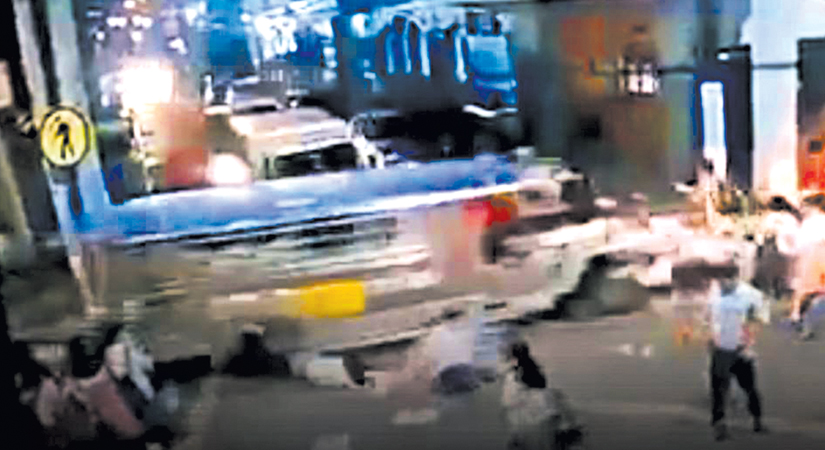 In the last week alone, we've seen eight high school children, mostly aged 14, get mowed down on a pedestrian crossing in Makati by an unlicensed, drugged-out jeepney driver who was on the wrong side of the road. We saw a seven-month-old baby and his mother run over and killed by another runaway truck, leaving another 10 people seriously injured. There was a motorcycle rider killed instantly by a car driven against the flow of traffic — and countless other incidents that may or may not have ended up on your newsfeed.
If this was a virus we were talking about, the whole country would be on lockdown and we would run out of face masks. But it's not; it's worse. It's behavioral, extremely avoidable, and yet we just keep on handing out licenses like they were flyers for pre-selling condos. And that needs to change; we cannot keep blaming the kamote drivers if our authorities are the ones planting them.
Accidents kill more Filipinos than terrorism and the coronavirus put together. And the irony here is, we will adjust our lives, sacrifice our privacy, wear masks, hold Senate hearings for network franchises, and spend billions on cosmetic security all around the country to wage a full-on war against something that statistically has less chance of happening than a Makati-to-Cubao trip in five minutes. But when it comes to something that is officially one of the leading causes of death (according to the DoH) nothing happens. Zilch. Nada. Maybe a couple of grandstanding politicians giving a sound bite but, basically, after all is said and done, a lot more is said than done.
It's time for real action. I know I'm not the only one sick to death of seeing yet another driver weeping on TV asking for dispensa (forgiveness) and crying that he is poor, yet as soon he gets back behind the wheel, he drives like he has the Sultan of Brunei signing checks for him. It's time to get tough — no matter what your socioeconomic profile is. And it all starts with raising the standards through better education, stricter testing, even stricter penalties, and placing a higher value on the privilege of driving.
We need to elevate the profession. Enough of this entry-level job nonsense. Let's give it the respect and seriousness it deserves. By keeping it as a minimum-wage job with no substantial costs or barriers to get a license, our authorities are the ones assigning a value to it, which in this case is zero. We need to create more value around driving so we attract a better caliber of driver because, I guarantee you, it will claim far more lives than any of the other things we react so impulsively to.
In the wrong hands, a vehicle is our biggest weapon of mass destruction.