Remolona sees upside risks to inflation outlook
POSSIBLE SUPPLY constraints affecting key food items threatens to reverse the downward trend in Philippine inflation, Bangko Sentral ng Pilipinas (BSP) Governor Eli M. Remolona said on Friday.
Mr. Remolona said the central bank sees inflation returning to the 2-4% target range by yearend, in the absence of supply shocks.
"We want to get to the target range without overshooting it too much," he told reporters. "I think we will overshoot a little bit pero hindi kami madadapa [but we won't trip]."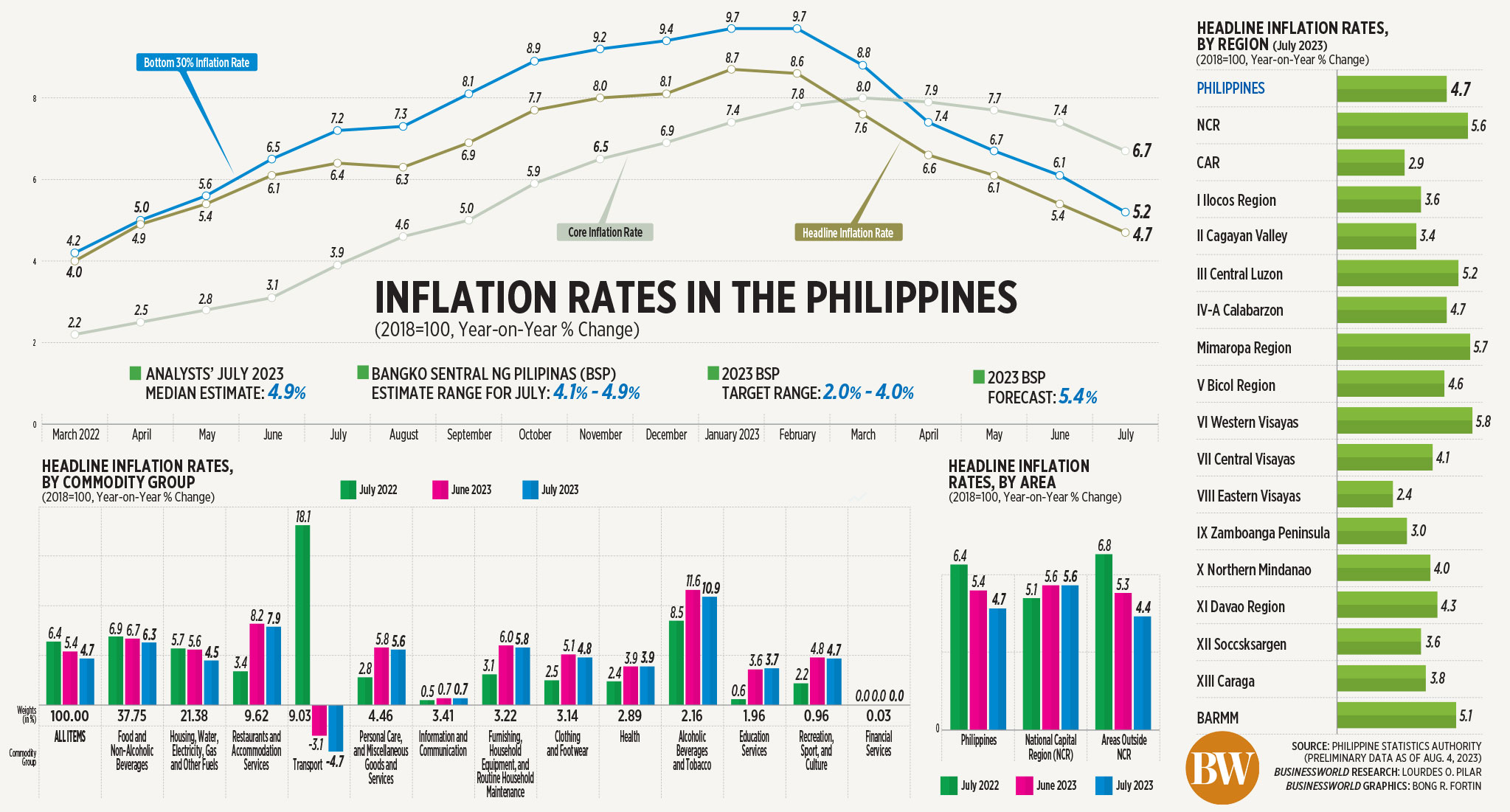 Asked if the Philippine economy would be able to handle another rate hike, Mr. Remolona said: "I think we're very close to our full capacity at this point."
The Monetary Board kept its key policy rate unchanged at a nearly 16-year high of 6.25% at its last two meetings. It has hiked borrowing costs by 425 basis points from May 2022 to March 2023 to tame inflation.
"If we're going to hike, we have to be very careful not to hike too much. Siguro kaunti lang muna [maybe just a bit], but if we're going to cut, there [should be] room to cut, so wait until Aug. 17 (Monetary Board meeting)," Mr. Remolona added.
Headline inflation cooled to a 16-month low of 4.7% in July from 6.4% in the same month in 2022. Core inflation also eased to 6.7%, the lowest this year.
For the seven-month period, inflation averaged 6.8%, still higher than the 5.4% forecast by the central bank. It also marked the 16th straight month of inflation exceeding the BSP's 2-4% target band.
Mr. Remolona said there are several risks to the inflation outlook.
"We are more worried about Vietnam, which is a big source [of the country's rice imports]. El Niño is beginning to hit Vietnam, they're experiencing droughts, so that's more worrisome," Mr. Remolona said in mixed English and Filipino.
Rice export prices have been going up as supply tightened due to India's ban on white rice exports. India is the world's biggest rice exporter, followed by Thailand and Vietnam.
The Philippines is one of the world's biggest rice importers and usually buys rice mainly from Vietnam.
Jonathan L. Ravelas, senior adviser at Reyes Tacandong & Co., said Philippine inflation is seen to maintain its downward trend in the second half but upside risks remain.
"The recent introduction of restrictive trade policies on certain food commodities by neighboring countries, the impact of typhoons Egay and Falcon in the country, as well as extended oil output and export cuts by major oil producers, have introduced new upside risks to near-term inflation," he said.
"These risks add to existing concerns about potential changes in domestic price policies amid ongoing supply constraints of key food items and currency fluctuations," he added.
Security Bank Corp. Chief Economist Robert Dan J. Roces said rising food prices in July are a red flag.
"The month-on-month increase in food prices picked up," he said. "We view this development as a red flag of concern for the central bank, as the jump in costs took place prior to the recent typhoon."
The index for food and non-alcoholic beverages eased to 6.3% in July from 6.7% in the previous month. However, month on month, food inflation rose to 0.5% from 0.3% in June. This was driven by monthly increases in prices of rice, corn, and vegetables.
Mr. Roces said it would be more concerning if high food prices will be sustained over the coming months following agricultural damage from Typhoon Egay (international name: Doksuri) and Typhoon Falcon (international name: Khanun).
Infrastructure damage from recent weather disturbances will also directly impact food costs, he said.
Agricultural damage due to the two recent typhoons reached P3.08 billion while infrastructure damage stood at P3.63 billion.
China Banking Corp. Chief Economist Domini S. Velasquez said August inflation will likely match or inch up from July due to the impact of the typhoons and higher transport costs.
"Some of the emerging upside risks (typhoon) are temporary and should be addressed by government interventions," Ms. Velasquez said.
GOVERNMENT MEASURES
Meanwhile, Finance Secretary Benjamin E. Diokno said to ensure that inflation falls within the 2-4% target by fourth quarter this year, the government will further monitor potential impact of weather disturbances, external uncertainties, the El Niño, as well as transportation and wage hike petitions.
"To ensure that the country will have sufficient amounts of rice needed by the population, the government will intensify the proper utilization of the calamity fund and Quick Response Fund to help our farmers, particularly with the adverse impact of recent typhoons that afflicted the country," he said.
The private sector is also encouraged to fill any supply deficits through importation during the lean season until September.
"Measures will also be implemented by the government to facilitate the issuance of sanitary and phytosanitary import clearance (SPSIC) and the enactment of a policy on the automatic approval of SPSIC application, and issuance of importation guidelines by the Sugar Regulatory Administration," Mr. Diokno said.
Finance Undersecretary Zeno Ronald R. Abenoja said the Department of Agriculture believes the rice stock to be sufficient until the end of the year.   
"We are also looking at developments abroad especially as the spillover effects of India could affect rice prices from other exporters. Given those considerations, the government is preparing to implement several measures in anticipation of El Niño as well as the impact of recent weather disturbances," he said. — Keisha B. Ta-asan