Exports quicken, imports ease in January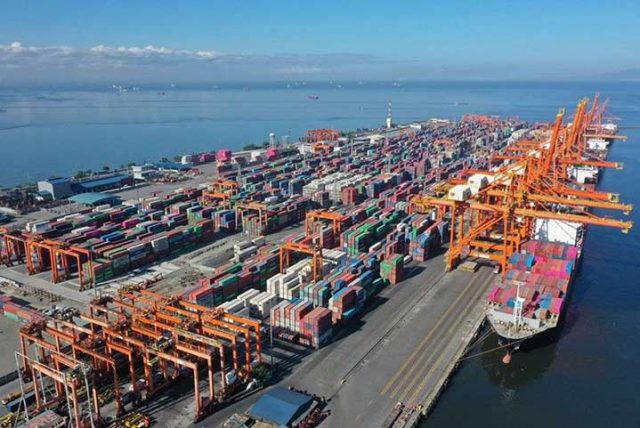 The value of locally made products grew to its fastest pace in five months in January thanks to strong external demand while imports eased to its lowest in three months, the Philippine Statistics Authority reported on Friday.
Preliminary data from the statistics agency showed merchandise exports went up by 8.9% year on year to $6.043 billion that month, faster than the revised 7.3% growth in December and a turnaround from a 4.4% decline in January last year.
It was the quickest pace since the 18.9% increase logged in August last year. Export growth has remained in the positive territory for the 11th straight month.
January import bill meanwhile increased annually by 27.5% to $10.739 billion, easing from 39.1% growth in December but higher than 22.1% recorded in January 2021.
It was the slowest reading since 25.2% growth in October last year. This marked the 12th straight month that imports' growth stayed in positive territory.
This brought trade-in-goods deficit of $4.696 billion in January, smaller than the $5.273-billion gap in the previous month but wider than $2.878-billion deficit in the same month last year.
The Development Budget Coordination Committee expects goods exports and imports to rise by 6% and 10% this year.
All major export products showed an expansion in January.
Exports of manufactured goods, which accounted for 83.7% of the total overseas sales for January, climbed by 7.2% year on year to $5.057 billion.
Exports of electronic products increased by 8.2% to $3.508 billion, accounting for more than half of total exports in January. Of the total, semiconductors, which made up the bulk of electronic products, contributed $2.62 billion, up by 10.5% year on year.
Agro-based products increased by 29.2% to $459.21 million, which accounted for 7.6% of the total exports.
Meanwhile, forest products grew by 9.5% to $34.44 million; mineral products increased by 17.2% (to $401.27 million); and petroleum products by 152.6% (to $1.14 million).
The imports of raw materials and intermediate goods reached $4.432 billion, up by 29.6% in January.
Mineral fuels, lubricants, and related materials climbed by 97.2% to $1.413 billion. Similarly, purchases of capital and consumer goods grew by 16.1% to $3.185 billion and 11.4% to $1.637 billion, respectively.
Economists attributed the increase in demand for locally made goods to the reopening of most economies that month.
"As most economies open, particularly our trading partners, trading activities began to spike up again," Asian Institute Management (AIM) Economist John Paolo R. Rivera said in an e-mail interview.
Exports expanded on the back of improved external demand in January and preorders, Security Banking Corp. Chief Economist Robert Dan. J. Roces said in a separate e-mail interview.
"However, supply chain difficulties may have blunted its full growth potential," Mr. Roces said, expecting the February trade data to rebound further as markets reopened.
In January, Metro Manila and surrounding areas were placed under Alert Level 3, which imposed strict mobility restrictions to contain the surge of new infections brought by the coronavirus disease 2019's Omicron variant.
It was gradually lifted to less severe Alert Level 2 in February and the capital region and other locations are now on relaxed Alert Level 1.
Meanwhile, Mr. Rivera said Russia's invasion of Ukraine this February may have an impact on the Philippines' trade figures going forward.
"The supply chain is disrupted by the war. We need to look for alternatives — strengthen local supply chain and or coordinate with our regional supply chain ASEAN, East Asia, and APAC," he said.
The Duterte administration's economic managers had said that the crisis between Russia and Ukraine — that saw global oil prices skyrocketing — will have minimal impact on the Philippine economy and will not last very long.
The United States, which accounted for 15.5% (or $934.77 million) of the total receipts, was the top export destination in January. It was followed by China's 14.6% share and Japan's 13.7%.
China, meanwhile, was the country's main source of imports in January, with a 19.3% share (or $2.069 billion) of the total bill, followed by South Korea's 9.8% and Japan's 8.8%.