Oil spike could drive up Q2 inflation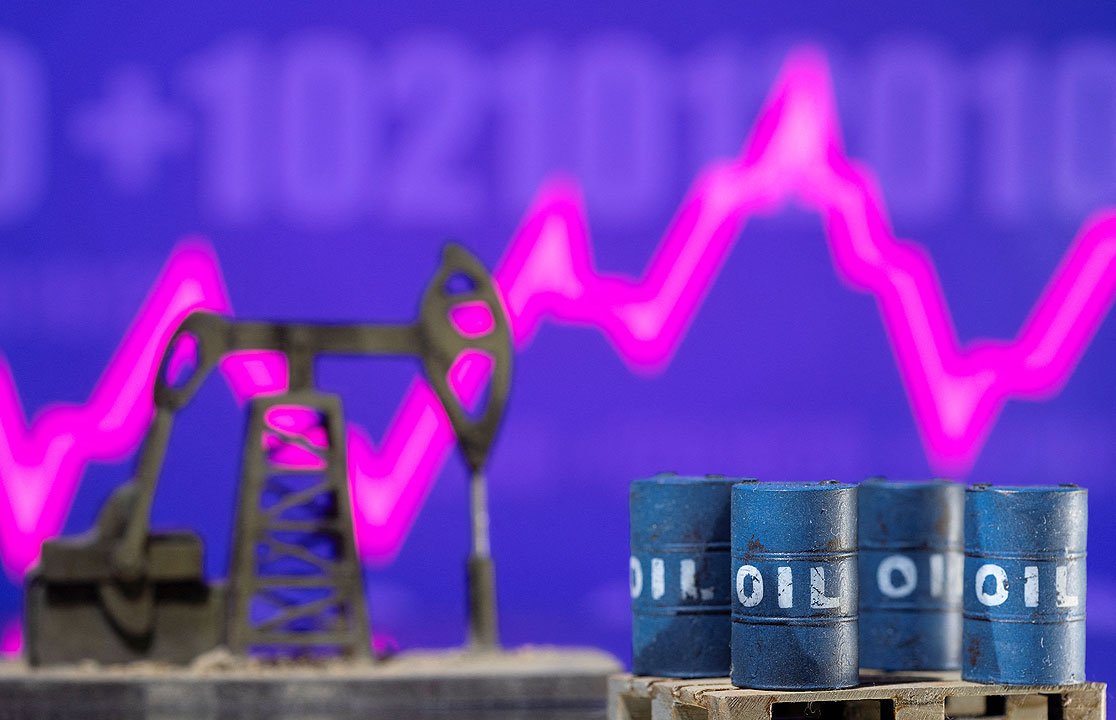 THE SUSTAINED INCREASE in oil prices is likely to drive inflation beyond the Philippine central bank's target in the second quarter, Bangko Sentral ng Pilipinas (BSP) Governor Benjamin E. Diokno said.
Despite the heightened global  uncertainty, Mr. Diokno said the  BSP  has the policy space to support economic output, which is expected to go back to pre-pandemic levels in the second half.
"Prices are fairly stable. Our forecast is that we will be within the target range in the first quarter. And then maybe in the second quarter, it will be a little bit because of this oil prices, but it will go down again in the third and the fourth quarter," he told ABS-CBN News Channel on Tuesday.
The BSP said February inflation likely settled at 2.8% to 3.6%, while a poll of 15 analysts by BusinessWorld yielded a median estimate of 3.3%.
If realized, inflation could be faster than 3% in January but still within the 2-4% target of the BSP. Philippine Statistics Authority will report February inflation data on Friday.
The BSP last month raised its inflation forecast for 2022 to 3.7% from 3.4% due to higher global oil and nonoil prices.
Oil prices have climbed in recent months due to persistent supply issues and geopolitical tensions. Last week, Brent crude exceeded $100 a barrel for the first time since 2014 after Russia invaded Ukraine.
Latest data from the Department of Energy showed gasoline, diesel and kerosene prices have increased by P8.75, P10.85, and P9.55 per liter, respectively, since the start of 2022.
Mr. Diokno said they were closely monitoring developments in the Russia-Ukraine conflict and its impact on the Philippine economy. He noted both countries' investments in the Association of Southeast Asian Nations (ASEAN) region are minimal, but said the conflict is affecting domestic oil prices.
"This is going to be hard for oil-importing countries like the Philippines," he said.
For now, the BSP will keep its forecast that Dubai crude oil would average $83.3 per barrel this year.
"As long as it does not exceed $95 per barrel on a sustained basis, not much just a day or two of fluctuation, it will be okay, our inflation target of 2-4% will hold," Mr. Diokno said.
"Higher than that, there may be some effect but it's not going to be disastrous for the Philippines. I think we should be more concerned about food rather than oil because oil is not a big part of our consumption index," he added.
A Nomura Holdings, Inc. report by analysts Sonal Varma and Ting Lu showed the Philippines, along with India and Thailand, will be the "biggest losers" in case of a continued rise in oil and food prices. A 10% rise in oil prices may add 0.4 percentage point to inflation in the Philippines and India, they added.
Instead of suspending the excise tax on fuel, Mr. Diokno supports fuel subsidies for selected sectors.
"The fuel subsidy is a better option than adjusting or maybe suspending the tariff on imported oil. Because it's targeted, it benefits the mass transport system," he said.
The 2022 national budget allows such subsidies if crude goes beyond $80 per barrel for three straight months.
The Development Budget Coordination Committee last week said it was preparing to release P2.5 billion in fuel subsidies for qualified public utility vehicle drivers. The Agriculture department also has a P500-million budget for fuel discounts to farmers and fisherfolk.
Apart from rising oil prices, Mr. Diokno also flagged other factors that may cause faster price increases that could hurt the economy's recovery.
"There is the increase in inflation, both in advanced and emerging market economies, due to firming demand, input shortages caused by supply-chain bottlenecks resulting from mobility restrictions and weather disruptions, and rapidly rising commodity prices," Mr. Diokno said at a Manila Times forum on Tuesday.
He also said the elevated global commodity prices, heightened geopolitical tensions and uneven pace of vaccinations around the world might dampen global recovery.
At its latest policy review on Feb. 17, the Monetary Board kept the key policy rate at a record low of 2% to support recovery, but said it was ready to respond to second-round effects of inflation.
"The BSP will maintain its accommodative policy stance given a manageable inflation environment and emerging uncertainty surrounding domestic and global growth prospects," Mr. Diokno said.
"The BSP will remain vigilant over the current inflation dynamics to ensure that the monetary policy stance continues to support economic recovery to the extent that the inflation outlook would allow," he added.
The central bank will have its next policy review on March 24.
ING Bank N.V. Manila Senior Economist Nicholas Antonio T. Mapa said higher oil prices would cause the country's import bill to rise further. While this could mean an inflation spike caused by supply issues, he said the impact could hamper inflation expectations.
"The wider trade gap caused by bloated oil imports will then likely drive peso weakness, which in turn would fan inflation even further. Furthermore, the possible emergence of second-round effects could drive the inflation path higher," Mr. Mapa said in an e-mail.
He said he expects the BSP to start hiking rates by the second quarter to be in line with global monetary policy tightening. The US Federal Reserve has signaled it might start raising interest rates this month.
"We expect BSP to finally relent and reverse course, remembering fully well the repercussions of policy dissonance with the Fed. We continue to price in a rate adjustment by the BSP by the second quarter, all the more given that gross domestic product growth will likely show four straight periods of expansion by the end of the first quarter," he said. — Luz Wendy T. Noble