Home
Editors' Picks
Economic recovery seen to get 'significant' boost from shift to Alert Level...
Economic recovery seen to get 'significant' boost from shift to Alert Level 1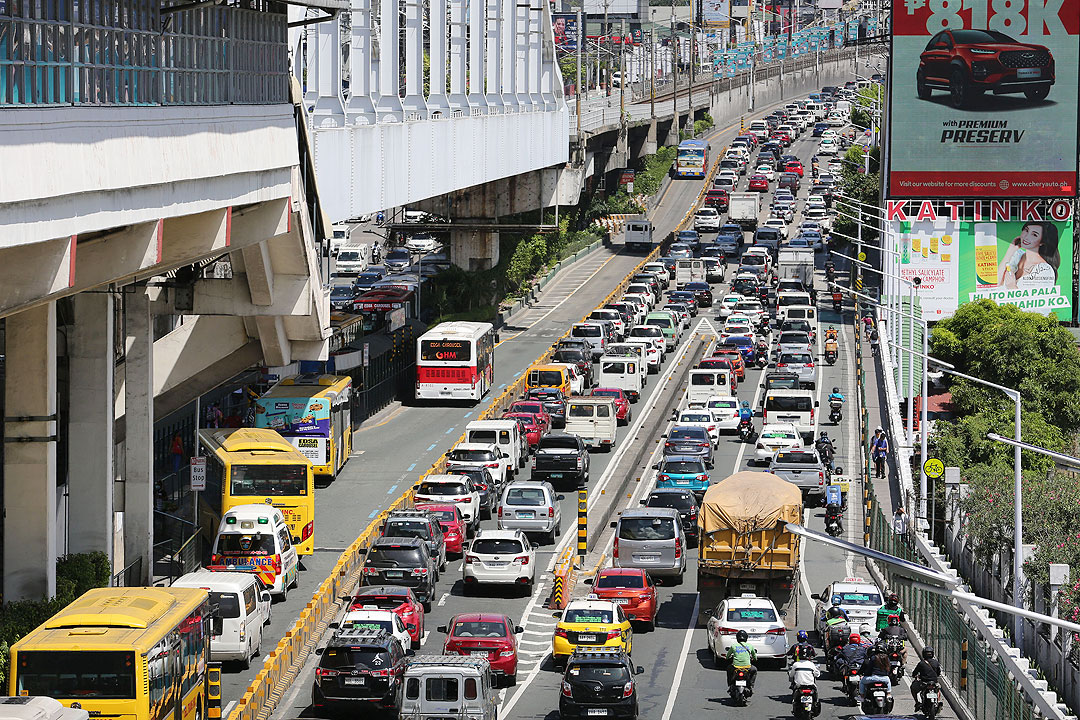 By Revin Mikhael D. Ochave
and Kyle Aristophere T. Atienza, Reporters
BUSINESS GROUPS expect the Philippine economy's recovery will get a "significant" boost as the country transitions to a "new normal."
At the same time, the government on Monday reminded the public that the coronavirus disease 2019 (COVID-19) pandemic is not yet over, even as the National Capital Region (NCR) and 38 other areas will be under Alert Level 1 starting today (March 1).
"The removal of restrictions on the movement of people would assist enterprises in returning to pre-pandemic production and sales operations, particularly those where working from home is not possible or practical. With no more capacity constraints, service businesses, such as restaurants and retail shops, would regain lost patronage," Alfredo E. Pascual, Management Association of the Philippines (MAP) president, said in a statement on Monday.
Under Alert Level 1, all business establishments can operate at full capacity.
Trade Secretary Ramon M. Lopez said on-site work is highly encouraged under Alert Level 1 to help the country's economic recovery.
"We are highly encouraging on-site work. Work from home is allowed and optional… We are encouraging people to go to the office since it is included in reviving the economy," he said in Filipino during a radio interview.
MAP's Mr. Pascual said allowing people to return to their offices will also "address mental health issues caused by prolonged isolation and a lack of regular face-to-face interactions."
"Of course, the required minimum health and safety protocols (vaccination, ventilation, social distancing, etc.) must be followed. Coordination with relevant sectors, such as transportation, is needed to avoid bottlenecks in mobility," he added.   
In a mobile phone message, Makati Business Club Executive Director Francisco "Coco" Alcuaz, Jr. said the business sector welcomes the continued lowering of COVID-19 restrictions.
"On-site work will be a much-awaited boon to retail, food, transport, and other businesses, accelerating economic recovery," he said, adding that companies should still consider to find a way to incorporate remote work.
Meanwhile, Steven T. Cua, Philippine Amalgamated Supermarkets Association (Pagasa) president, said in a mobile phone message that Alert Level 1 will hopefully lift consumer and business confidence.
Mr. Cua, however, said health and safety protocols should still be implemented such as requiring vaccination cards and maintaining social distancing. There should still be constant reminders about the threat of COVID-19, he added.
"People have trickled into the malls but not in levels before the lockdowns. For stand-alone supermarkets, the trickle is more tempered as people miss the nonessentials (eating out, cafés and bars, children's arcades, etc.) more since everyone was deprived of these activities for a longer period of time," Mr. Cua said.   
Rosemarie B. Ong, Philippine Retailers Association (PRA) president, said in a mobile phone message that retailers see the looser mobility restrictions as key to the sector's recovery.
"It is a welcome note for us and allow all retailers to fully recover. We see improvements in reported COVID-19 cases and we see it as a relief and good news. We are hoping for a strong recovery," Ms. Ong said.   
The Philippine economy expanded by 7.7% in the fourth quarter of 2021 as most parts of the country were under Alert Level 2 from November to December. This brought full-year growth to 5.6%, a turnaround from the record 9.6% contraction in 2020.
The government is targeting 7-9% growth for 2022.
Similarly, the Department of Tourism (DoT) is optimistic the tourism sector will show signs of a stronger recovery after NCR and other areas are placed under Alert Level 1.
Under Alert Level 1, the Safe, Swift, and Smart Passage (S-Pass) travel management system is not required for interzonal travel to areas under the same alert level, based on updated guidelines on the Nationwide Implementation of Alert Level System for COVID-19 Response.   
"Traveling between places under Alert Level 1 status, such as Baguio, Boracay, Ilocos Region, Aurora, Batanes, Laguna, Puerto Princesa City, Bacolod, Guimaras, Camiguin, and Davao City, is now easier and more convenient. The DoT anticipates with optimism the revival of many tourism jobs and opportunities that were once lost to the pandemic," Tourism Secretary Bernadette Romulo-Puyat said in a statement on Monday.    
'NOT ENDEMIC'
The Philippines is still at a level where it is transitioning to a new normal, Health Undersecretary Maria Rosario S. Vergeire told a televised Palace briefing.
"The pandemic is not over yet. We have yet to reach an endemic stage," she said in Filipino. "We are still in a situation where we want to transition to a new normal."
The de-escalation to Alert Level 1 is based on metrics, which include case trends, healthcare utilization rate, and vaccination rate.
Ms. Vergeire said the government may once again raise the alert level if cases and hospital utilization rates increase.
She said the government may shift its monitoring focus from COVID-19 numbers to the utilization rate in hospitals if most infections recorded nationwide and globally continue to be mild.
The Health official said establishments in areas under Alert Level 1 must self-regulate to prevent a sudden spike in infections.
"The community, establishments, spaces should be ready when cases increase again," she said. "This is our new normal. It's really self-regulation."
Cabinet Secretary Karlo Alexei B. Nograles said at the same briefing that public and private establishments in areas under the lowest alert level are no longer recommended to set up disinfection tents, misting chambers and sanitation booths.
He added that digital contact tracing is also optional in areas under Alert Level 1.
The government is aiming to vaccinate more people as it reopens the national economy. A local government must vaccinate 80% of seniors before it can be put under Alert Level 1.
In areas under Alert Level 1, people aged 18 and above are still required to present proof of full COVID-19 vaccination before participating in mass gatherings and entering indoor establishments.
The country has fully vaccinated 63.09 million people as of Feb. 27, while 68.73 million have received an initial dose, Mr. Nograles said. It has injected 10.14 million booster shots.
Mr. Nograles expressed confidence that the Russia-Ukraine crisis will not significantly affect the country's immunization program, saying the Philippines already has enough supply of COVID-19 vaccines.
"We are confident we have enough vaccine supply now here in our country," he said. "We're also very confident that whatever happens in the tensions happening now in Ukraine, we, with the international community also, will ensure that the vaccine supplies needed for the Philippines will not be hampered or delayed."