'Warm' reception for Figaro's market debut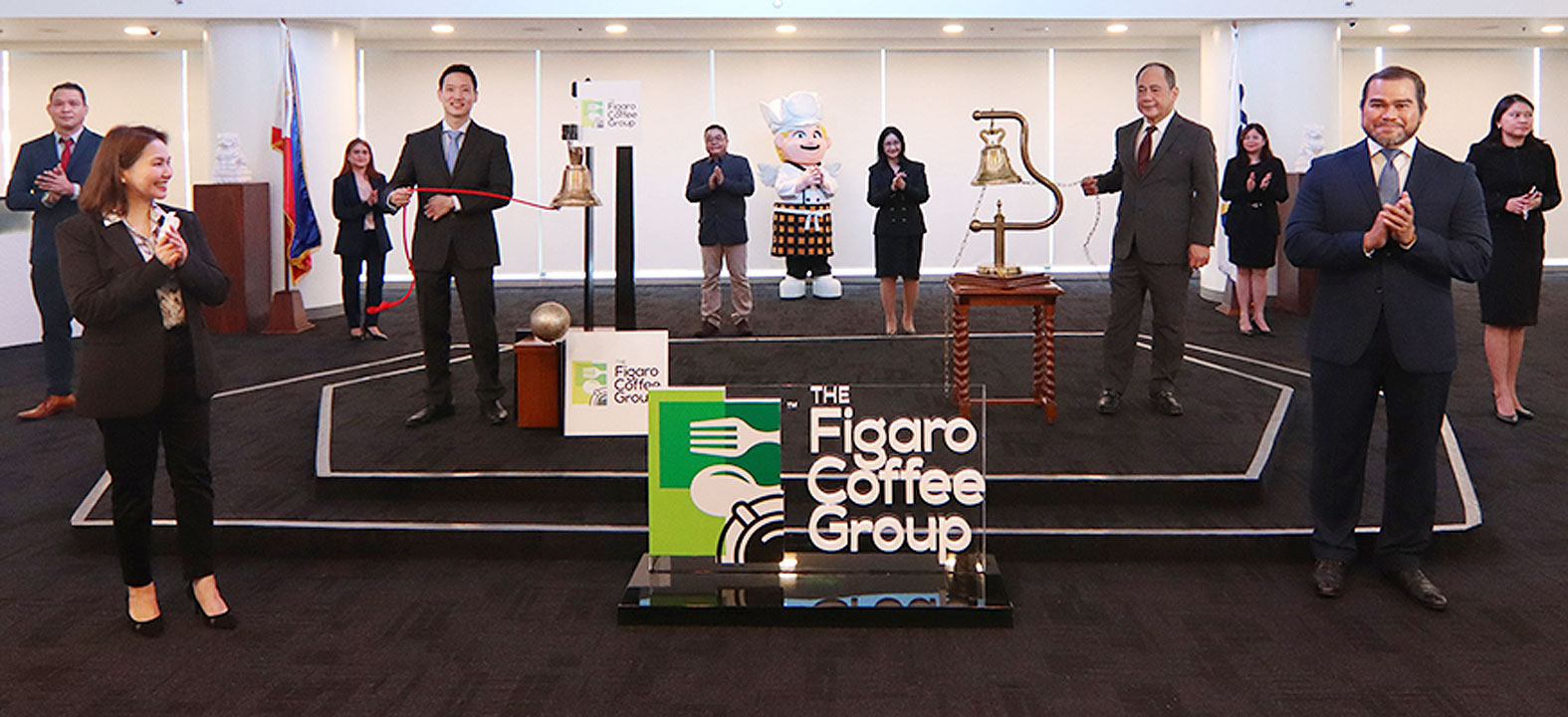 By Keren Concepcion G. Valmonte, Reporter
SHARES of Figaro Coffee Group, Inc. (FCG) closed its first day of trading up 2.67%, reflecting investor confidence in the food industry's growth prospects amid the pandemic.
The food and beverage holding company's shares closed at 77 centavos, adding two centavos to its initial public offering (IPO) price of 75 centavos.
"It was a relatively warm reception for Figaro given that most of the session it was trading above 80 [centavos], and closed at 77 [centavos] only because of profit taking," Regina Capital Development Corp. Head of Sales Luis A. Limlingan said in a Viber message on Monday.
Figaro shares opened at 79 centavos each, before rising to an intraday high of 89 centavos.
Mr. Limlingan said the stock market's overall decline may have affected Figaro's debut.
On Monday, the Philippine Stock Exchange index (PSEi) declined by 40.88 points or 0.56% to close at 7,252.64. All of the sectoral indices ended in the red.
"Given that the PSEi closed in the red, and the US markets have been experiencing a huge sell-off, the stock could have performed better under normal circumstances," Mr. Limlingan said.
Investors remained on the sidelines as they await the release of the Philippines' fourth-quarter national accounts on Jan. 27, and signals on rate hikes from the US Federal Reserve policy meeting this week.
Figaro raised P767 million from the sale of 1.023 billion common shares for 75 centavos each.
"We are very happy that our IPO generated strong interest from institutional and public investors. We are also grateful to the strong support of the banking community as this reflects their confidence in the food industry, especially in FCG's subsidiary, Figaro Coffee Systems, Inc., a company that has over 25 years of experience," Figaro Chairman and Director Justin T. Liu said in a statement on Monday.
PSE President and Chief Executive Officer Ramon S. Monzon said 94% of Figaro's local small investor (LSI) tranche was taken up by investors from 51 provinces and 11 countries.
"The percentage take-up of Figaro's LSI tranche is the fourth highest out of the 17 companies that have so far used the PSE EASy platform," Mr. Monzon said during the listing ceremony.
Net proceeds from the offer will be used to fund Figaro's planned store launches and renovations, commissary expansion, to refinance debt, as well as for the expansion of its information technology infrastructure.
As of last week, Figaro operates 56 Figaro Coffee Shops, 39 Angel's Pizza outlets, seven TFG Express outlets, six Tien Ma's Taiwanese Cuisine restaurants, and one Cafe Portofino outlet.
Figaro is the second company to brave the stock market this year, just a week after Haus Talk, Inc. made its debut at the small, medium, and emerging (SME) board of the PSE. Mr. Monzon noted the last time a company debuted on the stock exchange in the month of January was in 2003.
"So having two listings to date hopefully bodes well for the exchange's listing activities for the rest of the year," Mr. Monzon said.
However, Darren Blaine T. Pangan, a trader at Timson Securities, Inc., said it is possible that uncertainty due to the pandemic is clouding market sentiment.
"This positive mood may spill over to the next offerings, but uncertainty still remains over how the prevailing sentiment will unfold in the coming weeks, especially at a fragile time amid the pandemic," Mr. Pangan said in a separate Viber message.