Philippines urged to seek probe of reef destruction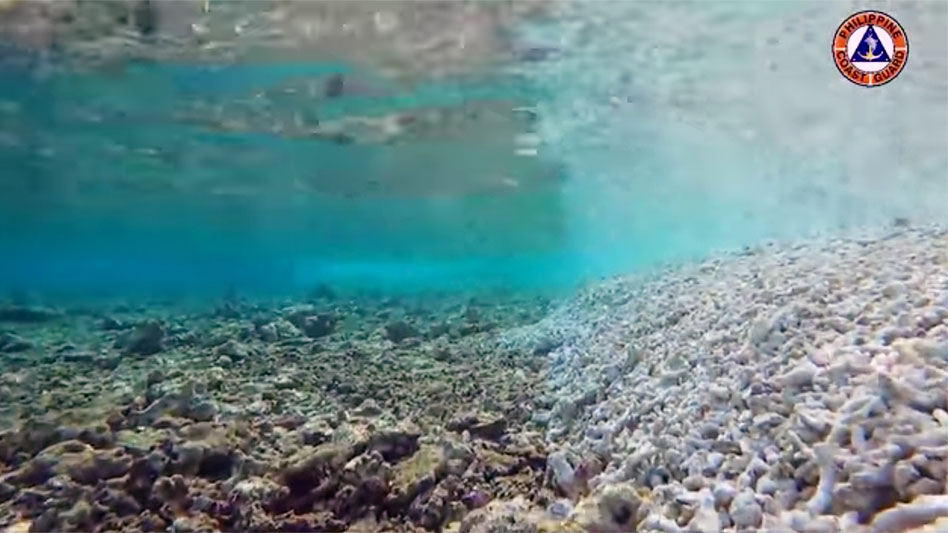 By Kyle Aristophere T. Atienza, Reporter
THE PHILIPPINES should seek an international investigation of alleged coral harvesting by Chinese maritime militia vessels in Philippine-claimed areas of the South China Sea, geopolitical analysts said on Tuesday.
The Philippines has put itself in a good position to internationalize the ecological destruction of its maritime features through its maritime transparency policy, said Raymond Powell, project leader at Stanford University's Gordian Knot Center for National Security Innovation.
"The Philippines can now appeal directly to international and transnational groups to investigate these matters and request outside intervention," he said in a Twitter message. He did not name the agencies.
The Philippine Coast Guard (PCG) on Monday confirmed a Philippine military report on the destruction of corals at Iroquois Reef and Sabina Shoal in the South China Sea. Iroquois Reef is at the southern end of Reed Bank, an area northeast of the Spratly Islands thought to be rich in oil and gas.
It cited the strong presence of Chinese maritime militia vessels in these areas. PCG said it had monitored 33 Chinese militia vessels near Iroquois Reef and 15 others near Sabina Shoal from Aug. 9 to Sept. 11.
During the period, the coast guard conducted underwater surveys, which showed that "the marine ecosystem in the subject West Philippine Sea features appeared lifeless, with minimal to no signs of life." 
There was visible discoloration of the seabed, indicating activities meant to modify the terrain's natural topography, it added. 
The presence of crushed corals strongly indicates a potential act of dumping, "possibly involving the same dead corals that were previously processed and cleaned before being returned to the seabed," it said.
In a report that cited satellite images taken on Sept. 17, Mr. Powell said about 35 Chinese fishing vessels were still at Iroquois Reef. 
"Under the United Nations Convention on the Law of the Sea and 2016 Permanent Court of Arbitration ruling, a coastal state granted an exclusive economic zone enjoys the rights to the resources within that zone," he said.
"China's exploitation of the marine resources at Iroquois Reef is therefore not only highly destructive of the marine ecosystem, but also illegal under international law," he added.
The Philippines must "solidify a whole-of-society approach in the West Philippine Sea based on a strong maritime framework that coordinates the initiatives of various sectors," Victor Andres C. Manhit, president of local think tank Stratbase ADR in Manila, said in a Facebook Messenger chat.
"The support for Filipino scientists and their marine science research in the area should be deepened," he added. 
SWARMING
Enrico Cau, associate researcher at the Taiwan Center for International Strategic Studies, said any research activities in Philippine waters should be led by Filipino scientists.
The Philippines could also tap experts from its Southeast Asian neighbors and western nations that are not directly involved in the South China Sea so that China can't claim that the activities "are being used by external powers for surveillance purposes," he said in a Messenger chat.
"Under the current situation, I'd recommend that most activities are conducted by Filipinos, or mixed teams of Filipinos and scientists coming from ASEAN (Association of Southeast Asian Nations) or Asia, or western countries that do not have direct involvement in the South China Sea."
The Philippine government should put forward a multidimensional approach to stabilize the security dynamics above and under the sea, Don Mclain Gill, who teaches foreign relations at De La Salle University in Manila, said, citing the importance of the South China Sea to the Philippines' blue economy goals.
"This is where the whole of a nation approach will be vital given that the Philippine government can collaborate more effectively with its scientific community to address such exacerbating issues," he added.
AGHAM, a group of Filipino scientists, called for stronger government support for research initiatives in Philippine-claimed areas of the South China Sea.
It said local marine scientists have been conducting scientific research in these water in recent years, but "Chinese presence continues to be a hindrance to research because access to study sites would be challenging if, for example, Chinese vessels are chasing away our scientists."
"With the alleged coral harvesting, there should be an extensive assessment of damage to our coral reefs," AGHAM campaign officer Cleng Julve said via Messenger chat. "The government should also provide more funding to add and upgrade research vessels, equipment and other facilities used in research."
PCG has said the swarming of Chinese militia vessels "for indiscriminate illegal and destructive fishing activities" at Iroquois Reef and Sabina Shoal "may have directly caused the degradation and destruction of the marine environment in the West Philippine Sea features."
The Philippine military on September 14 raised concerns over the "resurgence" of China's swarming tactics in Philippine areas of the disputed waterway.
Citing its air patrols on Sept. 6 to 7, the Armed Forces of the Philippines (AFP) Western Command said Iroquois Reef was being surrounded by 23 Chinese fishing vessels.
The tactic was also seen at Sabina Shoal, where five Chinese fishing vessels were present, and at Nares Bank, where two Chinese fishing vessels were spotted, it said in a statement.
The swarming activity has implications for the Philippines' "maritime security, fisheries conservation, territorial integrity and the preservation of the maritime environment," it added.