Manila needs long-term EV incentive plan, analysts say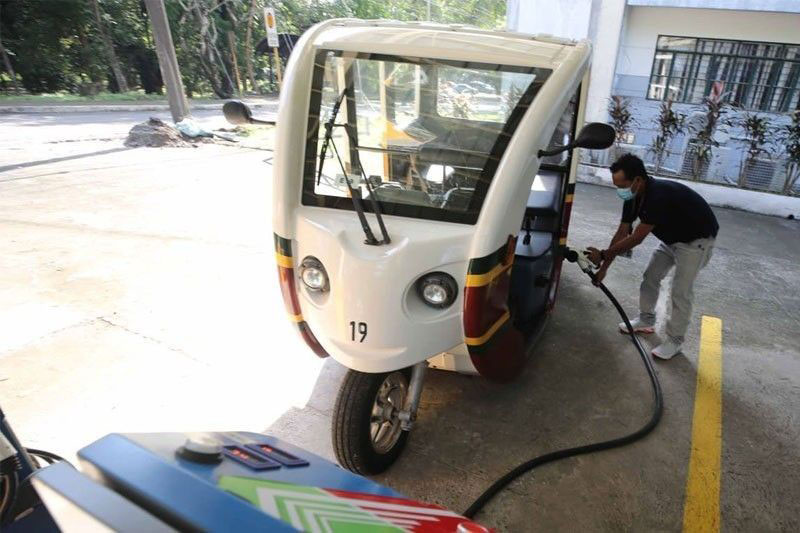 By Kyle Aristophere T. Atienza, Reporter
THE PHILIPPINES needs a long-term incentive program to encourage electric vehicle (EV) companies here and overseas to set up local manufacturing hubs, a public investment analyst said.
"There needs to be a specific manufacturing incentive program to encourage the shift to electric vehicles in the country," Terry L. Ridon, convenor of InfrawatchPH, said in a Facebook Messenger chat.
President Ferdinand R. Marcos, Jr. has extended by five more years a P27-billion incentive program for three foreign automakers to encourage production of at least 600,000 traditional vehicles in the Philippines.
Only Toyota and Mitsubishi joined the program. Toyota produces the Vios compact car, while Mitsubishi produces the Mirage model. Toyota has until 2024 to meet its commitments, while Mitsubishi's deadline is this year.
"Japanese companies are lagging behind their Chinese and European counterparts in the focus shift to EV manufacturing," Mr. Ridon said. "Toyota has focused more on improving its hybrid systems instead of competing in EV technology."
The CARS program was implemented to make the Philippines at par with regional rivals and lift its shrinking car output, which was the lowest in Southeast Asia months before the executive order was issued.
The auto sector was hit hard by the pandemic, forcing the government of former President Rodrigo R. Duterte to impose import safeguards on passenger cars and light commercial vehicles in 2021.
Last year, Mr. Duterte signed a law that seeks to accelerate the EV shift by requiring operators to use electric cars for at least 5% of their fleet.
Global leaders have been considering a shift to EVs as a solution to climate change, despite claims that battery-powered cars are bad for the environment.
Mr. Marcos Jr. in January issued an order temporarily lifting tariff rates on certain electric vehicles such as passenger cars, buses, minibuses, vans, trucks, motorcycles, tricycles, scooters and bicycles for a five-year period.
He also cut tariffs on certain EV parts and components to 1% from 3%.
Mr. Ridon said the CARS program is "not mutually exclusive to incentives that may be granted to EV manufacturers in the future."
"In fact, in the event that local manufacturers shift to EV production, they should still be able to enjoy similar incentives."
He said the main challenge now is how to encourage US, European and Chinese EV manufacturers to set up manufacturing hubs in the Philippines to serve the Asia-Pacific market. Rene S. Santiago, a public transport expert, said it is unjust for a developing country like the Philippines, which is also struggling to decarbonize its grid, to pursue a shift to electric vehicles.
'TRANSPORT OPTIONS'
"The rich global north is stampeding countries of the global south to accelerate EV, on the pretext of climate change, only because they want us to be captive markets of their products," he said in text message. "Carbon emissions per capita is very high in the global north, and very minimal in developing countries."
There has also been a global push to give buyers of second-hand electric vehicle units tax credits amid issues of affordability.
"I don't favor tax credits for used electric vehicles," Mr. Santiago said. "It is only the rich who benefit because they are the only ones who can afford to buy EVs. Let the market decide if they want EVs — without special privileges."
Meanwhile, the Center for Energy, Ecology and Development noted that instead of promoting the use of private vehicles, the Marcos administration should "create more pathways toward advancing sustainability in the public transport sector."
"The glaring lack of available transport options for commuters has been a long-standing problem," it said in an e-mail.
"Conversations about mobility should not just be about the comfort of the few who can afford it, but about a better and cleaner mass transportation system for all," it added.
Gasoline and diesel-powered vehicles remain overwhelmingly preferred in the Philippines, with Filipinos reluctant to adopt electric vehicles based on the dearth of charging stations, consulting firm Deloitte said in May, citing the results of its poll.
It said 72% of respondents in the Philippines preferred internal combustion engine vehicles.
This was down 10 percentage points from a year earlier, but was the highest in the region, ahead of Indonesia (59%) and Vietnam (49%), Deloitte said.
Only 25% of respondents in the Philippines showed interest in electric vehicles. The highest level of interest was recorded in Singapore (62%) and Thailand (60%).
The study was conducted between September and October and involved more than 26,000 consumers in 24 locations including Southeast Asia. At least 1,000 responses were incorporated into the study for each country in the region.