Home
The Nation
House supermajority expected as Marcos cousin meets more powerbrokers 
House supermajority expected as Marcos cousin meets more powerbrokers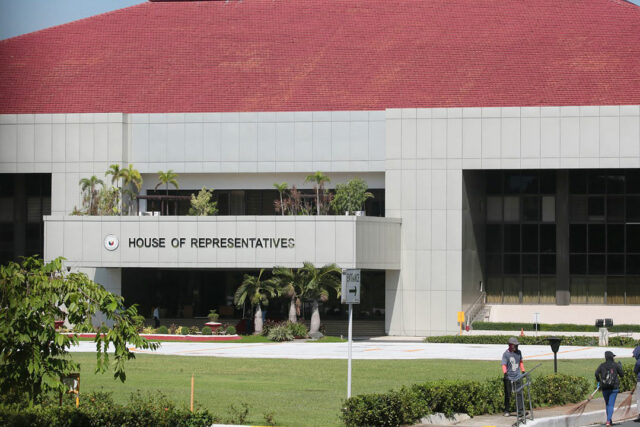 LEYTE Representative Martin G. Romualdez, cousin of presumptive president Ferdinand "Bongbong" R. Marcos, Jr., continues to meet with leaders of mainstream political parties as he is now poised to assume the speakership of the House of Representatives in the incoming 19th Congress.   
Mr. Romualdez on Monday afternoon met with stalwarts of Nacionalista Party (NP), including presumptive senator Mark A. Villar and Las Piñas City Rep. Camille A. Villar.  
Their parents, former senator and business tycoon Manuel B. Villar and Senator Cynthia A. Villar, are leaders of the conservative party, which has a membership of 39 in the lower chamber.   
The meeting, which was aimed to formalize NP's endorsement of Mr. Romualdez's speakership bid, was also attended by Ferdinand Alexander "Sandro" A. Marcos III, son of Mr. Marcos, Jr.   
Mr. Romualdez's aspired position is now backed by eight mainstream political parties, including the political group chaired by Vice President Maria Leonor "Leni" G. Robredo.  
With the backing of the country's largest traditional parties, the House would be "on solid ground in promoting the unity agenda" of the incoming Marcos administration, Mr. Romualdez's office said in a press release.  
"We will work as one in pursuing this agenda and putting in place measures that would get us out of the COVID-19 (coronavirus disease 2019) pandemic and those that would sustain our nascent economic growth," he was quoted as saying.   
More than 200 of around 300 members of the House of Representatives have endorsed the speakership bid of Mr. Romualdez of Lakas-CMD as of Saturday, according to his camp.   
Mr. Romualdez has also received the endorsement of his partymate, former President Gloria M. Arroyo, chair emeritus of Lakas-CMD. The rightist group is now chaired by presumptive vice president Sara Duterte-Carpio.  
Ms. Arroyo is also returning to the House after running unopposed as representative of Pampanga.   
Arjan P. Aguirre, who teaches political science at the Ateneo De Manila University, said the emerging supermajority in Congress would be "full of tensions" given that the supposed unity among its members is not anchored on principles and platforms.   
"In this situation, expect that the emerging 'supermajority' will be full of tensions since not all groups and forces have the same worth and roles to the ruling coalition," he said in a Messenger chat. "These groups will continue to strengthen their position by activating their factional resources."   
Mr. Aguirre said members of the emerging pro-administration faction are expected to "compete for a higher place or more favored position in legislative portfolios and committees."  
"Some will resort to promising the prioritization of the agenda of the ruling coalition, others will offer support or sponsorship of personal bills of the leading clique of the coalition." — Kyle Aristophere T. Atienza