De Lima detention shows gov't abuse of law, experts say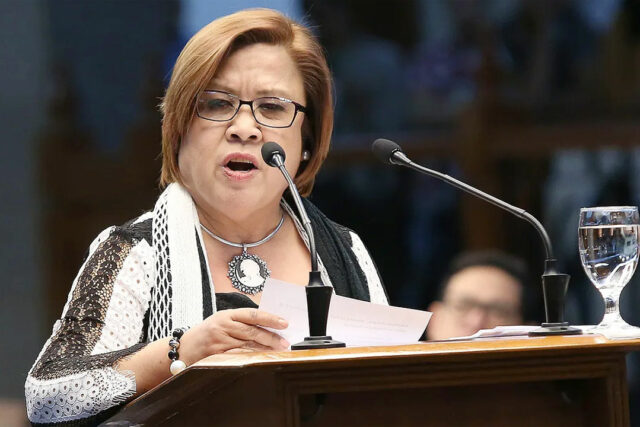 By John Victor D. Ordoñez
TWO key witnesses in the drug charges against a senator critical of President Rodrigo R. Duterte showed how the country's justice system could be easily abused, human rights and political experts said on Tuesday.
"Their retractions showed how the judicial system is being used and misused as an instrument of political persecution in the hands of a vindictive president," Fides M. Lim, convenor of rights group Kapatid, said in a statement.
"If this can be done to a sitting senator, all the more is this being done to equally vocal activists who have become political prisoners or victims of extrajudicial killings," she added, referring to Senator Leila M. de Lima, one of Mr. Duterte's most outspoken critics.
Former jail chief Rafael Z. Ragos and self-confessed drug lord Kerwin Espinosa separately took back their allegations against the lawmaker, who has been in jail since Feb. 2017 while being tried for drug trafficking.
Both claimed to have been coerced by Mr. Duterte's agents into falsely accusing Ms. De Lima.
"Politically, this series of withdrawal of testimonies against Senator De Lima will further tarnish the image and confidence of the people toward Duterte's war on drugs," Marlon M. Villarin, a political science professor from the University of Santo Tomas, said in a Viber message. "It will look more like a political witch-hunt that promised a solution to the drug menace in our society."
In an April 30 affidavit, Mr. Ragos recanted his allegations that Ms. De Lima received P5 million in drug money from him — care of convicted drug lord Peter Co — when she was still Justice secretary in 2012. She allegedly used the fund to finance her senatorial bid in 2016.
Last week, Mr. Espinosa separately affirmed that police had forced him to implicate the senator during Senate hearings investigating the illegal drug trade inside the national jail when she was still Justice secretary.
Justice Secretary Menardo I. Guevarra told reporters in a Viber message on Friday he would discuss with a panel of prosecutors if the drug suspect could be charged with perjury.
The Department of Justice (DoJ) earlier said Espinosa's retraction "bears no weight" because he was not used as a witness against Ms. De Lima.
"The question now is, can the DoJ extricate itself from this mess, or is it already too compromised for allowing itself to be weaponized?" Ms. Lim said. "Secretary Guevarra will just have to find in himself the common decency to let the rule of law prevail and allow Senator De Lima to step out of jail."
Mr. Villarin said the Justice department should immediately seek the senator's release if the evidence supports it.
"It's better for the DoJ to let go of an innocent person and stand corrected with their insufficient pieces of evidence than to let Senator De Lima rot in jail because of wrong allegations," he said.
That would eventually put the Justice department's credibility in a bad light, he added.
Ms. De Lima in a statement on Monday noted that despite being five years too late, the retractions have affirmed her innocence.
The presidential palace had consistently said it does not meddle in court matters.