Home
The Nation
Indonesian minister to push Garuda to resume Manado-Davao flights 
Indonesian minister to push Garuda to resume Manado-Davao flights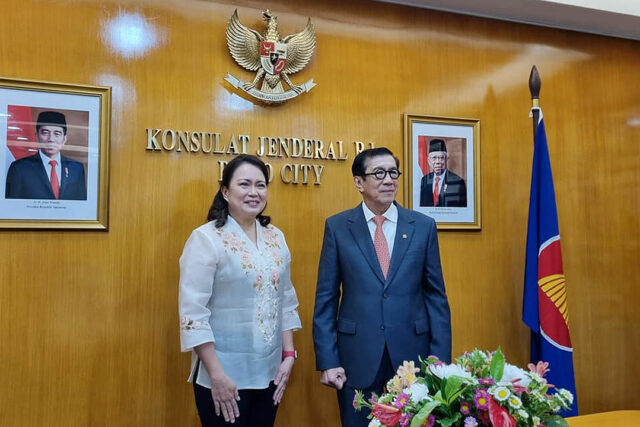 INDONESIAN Minister of Law and Human Rights Yasonna Laoly has vowed to push his country's flag carrier, Garuda Indonesia, to resume flights between Manado and Davao following a visit aimed at strengthening bilateral ties with Mindanao in southern Philippines. 
"Returning from here, I will talk to Garuda. The governor of Manado is a very close friend of mine. I'll talk to him. We have to move forward," Mr. Laoly said in an interview.  
The airline relaunched its Manado-Davao route in Sept. 2019, but was again suspended in mid-March of 2020 as travel restrictions were imposed due to the coronavirus pandemic. 
Mr. Laoly met with Secretary Maria Belen Sunga-Acosta of the Mindanao Development Authority (MinDA) and discussed potential economic partnerships, particularly in the construction of the Mindanao Railway Project and halal sector, among others. 
"Mindanao is now constructing railways and highways and we would like to cooperate in that as our Indonesian companies also has wide experiences in building highways and also trains/tracks," he said. "We would like to cooperate with that and also halal food and beverages." 
During his visit, Mr. Laoly also led the distribution of passports and non-immigrant visas to undocumented Indonesian citizens who have long been residing in Mindanao. 
The Philippines and Indonesia agreed to address the situation of stateless individuals through a program of registration and confirmation of citizenship during the 2014 Joint Commission on Bilateral Cooperation meeting. The Indonesian Consulate General in Davao City has since issued more than 1,250 passports to Indonesian citizens in Mindanao.   
"They are now not only documented but also legal to live in the Philippines," said Indonesian Consul General Dicky Fabrian. — Maya M. Padillo