China says it won't exploit Russia-Ukraine war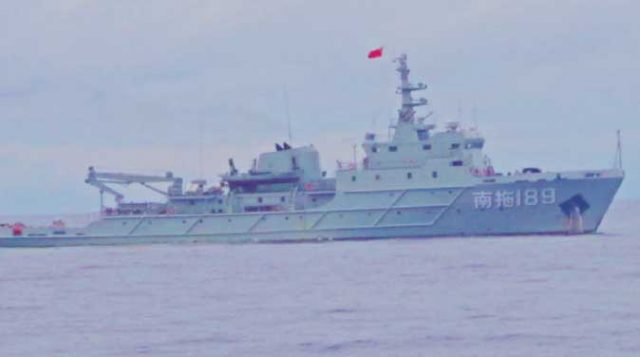 By Alyssa Nicole O. Tan, Reporter
THE CHINESE Embassy in the Philippines on Wednesday called "crazy and absurd" speculations that China would take advantage of Russia's invasion of Ukraine to advance its militarization of the South China Sea.
"China will absolutely not use its strength to bully smaller countries, and we never believe in the winner-takes-all approach," the embassy said in an e-mailed reply to questions. China seeks to "realize a resolution as soon as possible to advance joint development without prejudice to either side's rights and claims."
"We hope to work with the Philippines to find ways to properly manage and resolve the issue in the spirit of goodwill and pragmatism," it added.
The Philippines should mind a potentially bigger militarization of the South China Sea by China as the US and its allies are kept busy by Russia's invasion of Ukraine, foreign policy experts said at the weekend.
Senator and presidential candidate Panfilo "Ping" M. Lacson, Sr. on Wednesday said Russia's invasion of Ukraine could embolden China to do the same. He also said the next Philippine president should be an expert war strategist to ward off a potential invasion from other nations such as China.
Close to 700,000 Ukrainians have fled the country since Russia launched a devastating attack by air, land and sea on its neighbor, a European democracy of 44 million people, a week ago.
China abstained from the United Nations Security Council voting on the Ukraine crisis, which shows that it is neither condemning nor condoning the Russian invasion, said Mr. Lacson, a former police chief.
Senior Chinese officials had told senior Russian officials in early February not to invade Ukraine before the end of the Winter Olympics in Beijing, according to senior Biden administration officials and a European official, The New York Times reported this week.
The report indicates that senior Chinese officials had some level of direct knowledge about Russia's war plans or intentions before the invasion started last week, according to the newspaper.
These claims were speculations without any basis, and were meant to blame-shift and smear China, said Liu Pengyu, the Chinese Embassy spokesman in Washington.
China claims more than 80% of the South China Sea, which overlaps with the exclusive economic zones of Vietnam, Malaysia, Brunei, Indonesia and the Philippines. Each year, trillions of dollars of trade flow through the sea, which is also rich in fish and gas.
The Chinese Embassy said the sea dispute could be turned into an opportunity and lead to an outcome that could benefit the Philippines and deepen the friendship between the two countries.
"However, some forces are trying to frustrate this good momentum with repeated provocations," it said. We despise those groundless malicious speculations made by some so-called experts."
Jaime B. Naval, a political science professor from the University of the Philippines said China could drive away not just Filipino fisherfolk within the Philippine exclusive economic zone "but even our troops stationed on South China Sea reefs or shoals."
There could also be "not only increased adversarial actions but even possible new measures approximating Scarborough of 2012," he said in a Facebook Messenger chat.
"China may also resort to more provocative or counteractive measures against powers conducting freedom of navigation in the area," he added.
More than five dozen Chinese ships remained in disputed areas of the waterway as of Feb. 17, while 39 more had banked near the Union Banks, Simularity Chief Executive Officer Liz Derr told a forum last month.
The Philippines has filed 241 diplomatic protests against China, including 183 last year due to the entry of China's militia vessels, which it claims are fishing boats, into waters near Thitu Island and Whitsun Reef, according to data from the Foreign Affairs department. 
'WORLD PEACE'
Mr. Naval cited expectations that China might have more intrusive air and naval sorties near Taiwan.
China claims democratically governed Taiwan as its own territory and has in the past two years stepped up military and diplomatic pressure to assert its sovereignty claims, causing deep concerns in Washington.
On Feb. 28, Taiwan's Defense Ministry said eight Chinese aircraft including six fighters and two anti-submarine aircraft had flown into its air defense identification zone to the northeast of Pratas Islands at the top end of the disputed seas.
"China has always faithfully fulfilled its international obligations and played a constructive role in maintaining world peace and stability," the Chinese Embassy said. "China will join hands with the Philippines to properly handle the South China Sea issue."
Although both countries have yet to reach an agreement, the embassy said the sea dispute should be put in its proper place without affecting their bilateral relationship.
China, it added, is aware that each country has its own claim and position. "Stressing only one side's claims and imposing one's own will on the other is not a proper way for neighbors to treat each other."
The Chinese Embassy also noted that since President Rodrigo R. Duterte took office in 2016, relations have continued to improve, with both countries working together to overcome the pandemic, promote development and revitalization and cooperate to resolve sea disputes.
Mr. Duterte only started speaking about Philippine sovereignty in the waterway last year, close to the end of his six-year term as president. For most of his term, the tough-talking leader had allowed Chinese fishermen to illegally fish in the South China Sea and followed through with a so-called appeasement policy, according to Jay L. Batongbacal, director of the University of the Philippines Institute for Maritime Affairs and Law of the Sea.
The Chinese Embassy noted that China's relations with the Philippines, had always brought cooperation and friendship, not colonization and war. In contrast, the United States invaded the Philippines many years ago and still has military presence in the country, it added.
"China stays committed to the path toward peaceful development and the building of a community with a shared future for mankind," it said. "We will continue to firmly oppose all hegemonies and power politics and resolutely uphold the legitimate rights and interests of developing countries, especially small and medium-sized countries."
"China and the Philippines should stay committed to an independent foreign policy and contribute to the stability and prosperity of the region," it added.