DoH reports 3,574 more COVID cases, 83 more deaths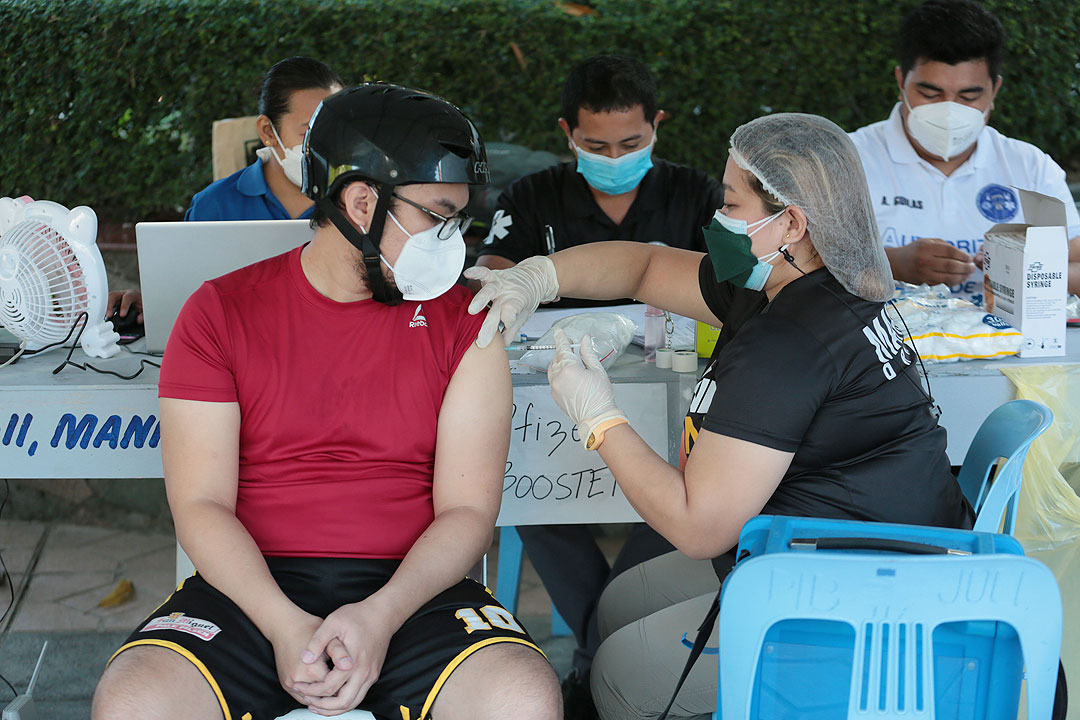 THE DEPARTMENT of Health (DoH) posted 3,574 coronavirus infections on Tuesday, bringing the total to 3.62 million.
The death toll hit 54,621 after 83 more patients died, while recoveries rose by 14,644 to 3.46 million, it said in a bulletin.
It said 16.3% of 23,754 samples on Feb. 5 tested positive for coronavirus disease 2019 (COVID-19), still above the 5% threshold set by the World Health Organization (WHO).
Of 105,550 active cases, 4,059 did not show symptoms, 96,722 were mild, 3,007 were moderate, 1,446 were severe and 316 were critical.
The DoH said 87% of the latest cases occurred from Jan. 26 to Feb. 8. The top regions with new cases in the past two weeks were Metro Manila with 528, Western Visayas with 357 and Central Visayas with 308 infections. It added that 64% of new deaths occurred in February.
The agency said 328 duplicates had been removed from the tally, 276 of which were recoveries, while 35 recoveries were relisted as deaths. Six laboratories failed to submit data on Feb. 5.
DoH said 41% of intensive care unit beds in the country had been used, while the rate for Metro Manila was 35%.
The country's average daily cases fell by 52% last week from a week earlier, Health Undersecretary Maria Rosario S. Vergeire told an online news briefing.
Zamboanga Peninsula, the Davao region, Soccsksargen and Northern Mindanao were at high risk from the virus, she added.
The government is scrambling to vaccinate more people as it reopens the national economy.
The Philippines had fully vaccinated 60.15 million people as of Feb. 7, while 60.74 million have received their first dose, data from the Health department showed. About 8.24 million booster shots have been injected.
The government is also aiming to inject booster shots to 72.16 million adults and 12.47 million minors aged 12 to 17.
On Feb. 7, The government started vaccinating children aged five to 11. The government aims to inoculate 15.56 million kids under the age bracket.
Ms. Vergeire said more than 9.2 million children aged 12-17 have been vaccinated with no deaths reported. Among the more than 9,000 kids vaccinated on Monday, only one child reported a mild reaction, she added.
Meanwhile, the government would keep the virus alert system, presidential spokesman Karlo Alexei B. Nograles told a televised news briefing.
The five-tier alert level system will be institutionalized in the fifth phase of the National Economic Development Authority's national action plan "to serve as our warning system for possible increase in cases or outbreaks," he said.
"Alert Level 1 is our new normal, which focuses on enhancing risk management, although it appears to be less restrictive," he added.
Agencies are working on a national roadmap so the country could move toward living with COVID-19, Mr. Nograles said.
"We feel that it is now time to start discussing and planning out a roadmap so we can already start living with COVID-19, and we will start doing that this month," Vivencio B. Dizon, deputy enforcer of the country's pandemic plan, told a televised Cabinet meeting on Monday night.
Meanwhile, DoH has lowered the price cap on COVID-19 antigen test kits to P350 from P500, based on a Jan. 28 circular released on Tuesday. — Kyle Aristophere T. Atienza