Philippines reports 492 more Omicron infections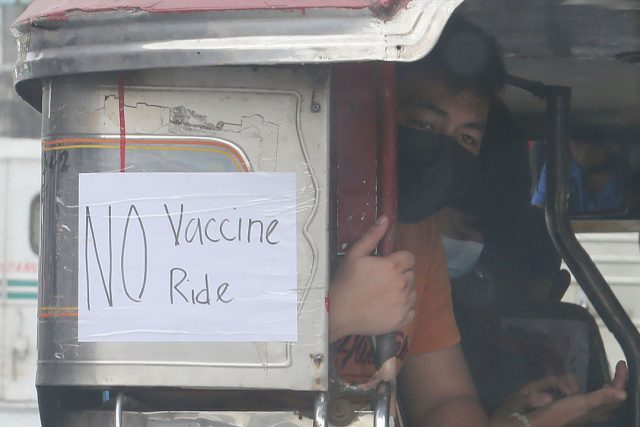 THE PHILIPPINES reported 492 more coronavirus infections involving the highly mutated Omicron variant, bringing the total to 535.
In a statement, the Department of Health (DoH) said 69% of 714 samples sequenced by the Philippine Genome Center on Jan. 13 to 14, tested positive for Omicron. It added that 332 of the patients were local, while 160 were returning migrant Filipinos.
The agency said 68% of the local cases were from Metro Manila, which has been struggling to contain a fresh surge in infections.
Seventy-six patients came from the Calabarzon region, 11 from Central Luzon, five from Central Visayas, two each from Cagayan Valley, Western Visayas, Davao region, Soccsksargen and the Cordillera Administrative Region, and one each from Ilocos, Mimaropa and the Bangsamoro Autonomous Region in Muslim Mindanao.
The Health department said three of the new Omicron cases were still active, two have died, and 467 patients have recovered. The agency said it was verifying 20 other cases.
Health Undersecretary Maria Rosario S. Vergeire on Tuesday said Omicron had become the predominant variant especially in the National Capital Region.
DoH on Wednesday posted 22,958 coronavirus infections, bringing the total to 3.29 million. The death toll increased by 82 to 53,044, while recoveries rose by 36,611 to 2.97 million, it said in a bulletin.
The agency said 43.5% of 62,531 samples on Jan. 17 tested positive for COVID-19, way above the 5% threshold set by the World Health Organization (WHO).
There were 270,728 active cases, 8,335 of which did not show symptoms, 257,632 were mild, 2,970 were moderate, 1,487 severe and 304 were critical.
DoH said 94% of the latest cases occurred on Jan. 6 to 19. The top regions with new cases in the past two weeks were Metro Manila with 7,861, Calabarzon with 4,647 and Central Luzon with 2,049 infections. It added that 68% of deaths occurred in January, 10% in October and 18% in September.
Eighty-seven duplicates had been removed from the tally, 64 of which were reclassified as recoveries, while 32 recoveries were relisted as deaths. Six laboratories failed to submit data on Jan. 17.
DoH also reported 115 more Delta infections, bringing the total to 8,612. Of these, 88 were local and 27 were returning migrant Filipinos. The variant first detected in India nearly exhausted the country's health system last year.
Of the latest Delta cases, two were still active, two have died and 107 have recovered, the DoH said.
It added that the country now had 3,170 cases of the Alpha variant after a new case of the virus type first detected in the United Kingdom was also found among the samples.
DoH said 49% of intensive care unit beds in the country had been used, while the rate for Metro Manila was 53%.
Health Secretary Francisco T. Duque III on Tuesday said daily coronavirus infections were probably decreasing, but the country remained at critical risk from the virus.
Metro Manila, Ilocos, Cagayan Valley, the Cordillera Administrative Region, Central Luzon and Calabarzon were still under critical risk, he told a taped Cabinet meeting on Monday night.
The country had an average 314 cases from Dec. 21 to 27, spiked more than eight times with 2,592 cases from Dec. 28 to Jan. 3 and rose almost eight times with 20,462 cases the following week, Mr. Duque said.
The average daily cases rose by 71% from Jan. 11 to Jan. 17, he said, adding that infections have started to plateau.
Daily infections in the country have reached a record this month amid the spread of the heavily mutated Omicron variant.
Health Undersecretary Maria Rosario Vergeire on Tuesday said coronavirus infections in various regions have been increasing.
She also cited a steep increase in hospital admissions in Metro Manila in the past week, noting that 60% of hospital beds in the capital region were occupied.
Ms. Vergeire said it was too early to say that coronavirus infections in Metro Manila were decreasing. The Health department does not look at daily changes in COVID-19 data because it could be influenced by certain variables such as laboratory submissions, she told ABS-CBN TeleRadyo.
She said cases remained high. — Kyle Aristophere T. Atienza