Home
The Nation
Half of over 650,000 overseas workers who have gone home still got work abroad 
Half of over 650,000 overseas workers who have gone home still got work abroad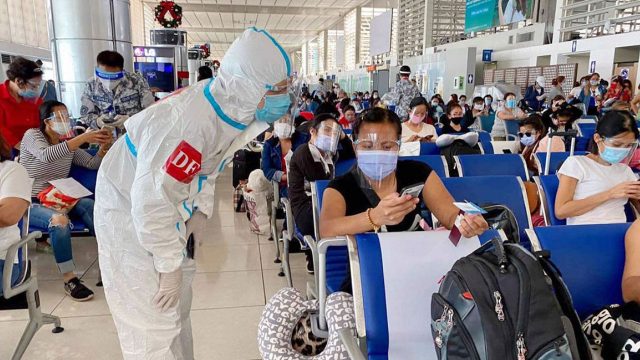 A TOTAL of 653,401 overseas Filipino workers (OFWs) have come home since the start of the coronavirus pandemic last year, about half of whom still have a job abroad to go back to.    
In a virtual briefing on Wednesday, Overseas Workers Welfare Administration (OWWA) Director Hans Leo C. Cacdac said they are expecting another 150,000 to 180,000 OFWs to return to the country within the year.   
Mr. Cacdac estimated that 50% of the returning OFWs were displaced or have decided to stop working abroad due to the pandemic, while the other half just came home to visit their families and will be leaving again.  
Returning OFWs get government assistance on in terms of food, transport, and accommodation during their quarantine period, and cash aid worth P10,000 under the Bayanihan II Act, the second law passed for the country's pandemic response.  
The OWWA official said their agency has so far spent P5.2 billion for cash assistance to 520,093 OFWs.   
He added that the Budget department has committed to the additional P7-billion funding requested by OWWA, but a final amount has yet to be determined.   
Meanwhile, Warren M. Miclat, the Labor department's financial management service director, said the department continues to accept applications for its COVID-19 (coronavirus disease 2019) Adjustment Measures Program while waiting for the approval of Bayanihan III.  
"We received P16.4 billion from Bayanihan II so the funds from Bayanihan III is hopefully higher," Mr. Miclat said.   
He added that the Department of Labor and Employment (DoLE) will not request for additional funds for cash assistance if ever the strict lockdown in Metro Manila is extended beyond Aug. 20.   
DoLE has a pending request for an additional P2 billion for cash aid to workers displaced by the lockdown. — Bianca Angelica D. Añago