Metro residents to get P1,000 cash aid amid lockdown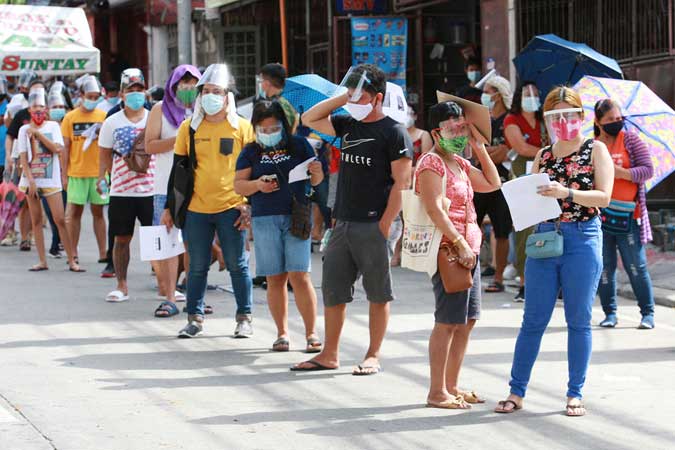 LOW-INCOME residents of Metro Manila will get P1,000 each in cash aid before a two-week enhanced lockdown that will start on Aug. 6, according to the presidential palace.
Budget officials were set to meet on Monday to decide where the cash aid, which will be limited to P4,000 per household, would be taken, presidential spokesman Herminio L. Roque, Jr. told a televised news briefing.
"It's sure to be given away," he said. "What we don't know yet is where the money will come from. The President's order was to look for funds."
Think tank IBON Foundation has said the administration could realign the 2021 budget to fund more urgent concerns amid lockdowns spurred by a more contagious Delta coronavirus variant.
The Department of Budget and Management said P13 billion in government savings were not enough to fund the cash aid.
State offices have identified P13 billion of unspent funds from their 2020 budgets, Budget Undersecretary Tina Rose Marie L. Canda said in a Viber message. "All of it is still not enough."
President Rodrigo R. Duterte issued Administrative Order 41 in May asking agencies to identify funds from their 2020 budgets that can be declared as savings and used for cash handouts.
Lawmakers are pushing for a third stimulus package worth P400 billion to help sectors hit hard by the pandemic.
The Public Works department identified the biggest savings among agencies Ms.  Canda said.
The government releases cash handouts to low-income families during a strict lockdown.
In March when Metro Manila reverted to an enhanced community quarantine the state allotted P23 billion in cash aid. Beneficiaries got P1,000 each, or as much as P4,000 per household.
The Budget department has released  P679.27 billion to agencies as of June 30 for the government's pandemic response.
Meanwhile, the Labor department said it would allot less than P4 billion from its budget as cash aid for workers affected by the two-week enhanced community quarantine.
Labor Assistant Secretary Dominique R. Tutay told an online news briefing they would meet with officials from various agencies including the Social Welfare, Budget and Finance departments on Tuesday to discuss the cash aid.
The labor department would come out with a memo before Aug. 6 she said.
She added that the agency expects about 327,000 workers with flexible working arrangements, 127,000 of whom are in the capital region, to be affected by the two-week lockdown due to fewer work days.
The Philippine economy could lose more than P200 billion during the two-week lockdown, the National Economic and Development Authority said in a statement last week.
It would also increase the number of poor people by as many as 177,000 and add 444,000 jobless Filipinos, Socioeconomic Planning Secretary Karl Kendrick Chua said.
The government should use the next three weeks to fast-track vaccinations in high-risk areas, he said.
The OCTA Research Group from the University of the Philippines earlier urged the government to impose a "circuit breaker" lockdown to contain a fresh surge in coronavirus infections that may be due to the Delta variant. — Kyle Aristophere T. Atienza, Beatrice M. Laforga and Bianca Angelica D. Añago