Watchdog: Duterte among top press freedom predators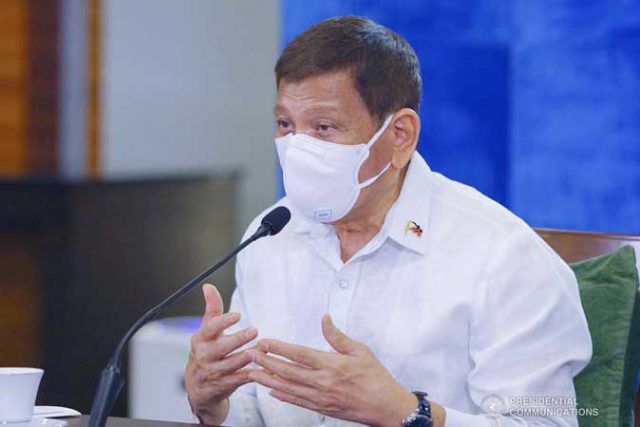 PHILIPPINE President Rodrigo R. Duterte is among the world's top "press freedom predators," according to a global media watchdog, citing his penchant for crackdowns on media critical of his policies.
Mr. Duterte was among 37 heads of state "who crack down massively on press freedom," Paris-based Reporters Without Borders said on its website on Monday.
Due to "collusion at all levels," Mr. Duterte has an "arsenal that he can use to wage 'total war' against journalists," the Paris-based media watchdog said.
"Thanks to collusion at all levels within the state apparatus, Duterte has an arsenal that he can use to wage total war against journalists," it said.
This arsenal "includes spurious charges of defamation, tax evasion or violation of capital legislation; rescinding broadcast licenses; getting accomplices to buy up media outlets and bring their journalists into line; and using an army of trolls to subject journalists to online harassment."
Judges who don't toe the line are pushed aside, the watchdog said. "Congress tamely endorses all the president's decisions. Backed by most of the private sector, Duterte easily imposes his line on media outlets owned by businessmen that support him."
Presidential spokesman Herminio "Harry" L. Roque, Jr. said the list was "absolutely bereft of merit," noting that local media could still publish critical content.
"Look at the International Criminal Court (ICC), its sources are media critical of the government," he told a televised news briefing. "This shows press freedom in the Philippines is alive and well."
He added that Mr. Duterte had not sued any journalists for libel, and no one had been sent to jail.
Former ICC prosecutor Fatou Bensouda last month asked the Hague-based tribunal to probe the government's deadly war on drugs. She said there was reasonable basis to believe that crimes against humanity had been committed under Mr. Duterte's watch.
Mr. Roque, a lawyer, earlier said Ms. Bensouda's findings would not stand in court since they were largely based on media reports.
He said the tough-talking leader should not be blamed for the closure of ABS-CBN Corp. since it was Congress which rejected the media giant's application to extend its franchise.
The President should also not be faulted for the revocation of news website Rappler's license to operate by the Securities and Exchange Commission, he said.
Congress last year rejected the franchise application of ABS-CBN, which has been critical of the Duterte government. Mr. Duterte said he would bar the network from using free TV and radio frequencies even if it gets a new franchise.
The President had also slammed the Philippine Daily Inquirer and Rappler for criticizing his government, particularly his anti-illegal drug campaign that has killed thousands of drug suspects.
Sweden-based digital forensics group Qurium Media Foundation earlier reported that the websites of two alternative media organizations in the Philippines had been under a series of cyber-attacks involving digital infrastructure linked to the state.
It said several internet protocol addresses linked to the military and Science and Technology department started a series of attacks in the past two months against the websites of Bulatlat.com and Altermidya.net, and human rights group Karapatan.org. — Kyle Aristophere T. Atienza