Duterte leaves BTA fate to Congress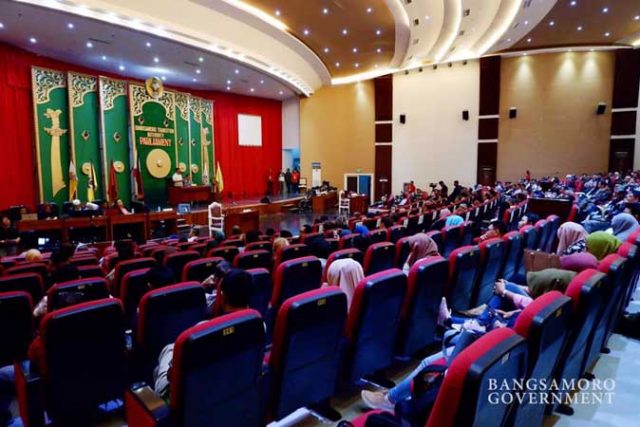 PRESIDENT Rodrigo R. Duterte has taken a neutral position on the proposed extension of the transition body handling the new Bangsamoro region in southern Philippines, according to the presidential palace.
"The President po decided to become neutral and will let Congress to fully discuss the matter and to decide accordingly, respecting the plenary powers and wisdom of Congress," Presidential Spokesperson Herminio L. Roque, Jr. told a televised news briefing Monday.
Mr. Duterte values opposing views on the proposal, he added.
Mr. Roque noted that the Bangsamoro Transition Authority (BTA) has yet to pass an election code that would serve as basis and guideline for voting parliamentary members in the autonomous region in 2022 as provided under the Bangsamoro Organic Law.   
Bangsamoro Autonomous Region in Muslim Mindanao (BARMM) Chief Minister Ahod B. Ebrahim — among those pushing for the BTA's extension by another three years to 2025 — on June 15 told members of the BTA who currently make up the parliament that the electoral code being drafted by the Cabinet will be transmitted "as soon as possible."
Various groups have been urging the President to certify as urgent proposed measures extending the term of the BTA. The 18th Congress opens its third and last regular session on July 26.
At the same briefing, Sulu Governor Abdusakur Mahail Tan expressed opposition to the extension of the BTA's term, saying the proposal is unlawful.
"We are opposing that because the law provides that the term of the BTA will only be three years," he said in a mix of Filipino and English. "That will end in 2022, and that the elections will be synchronized with the national polls."
If the BTA extension does not get approval, the BARMM will vote not just for local government and national officials in 2022 along with the rest of the country, but also at least 80 members of the region's parliament.
Mr. Tan said he would challenge the postponement of BARMM elections before the Supreme Court. "It will be very awkward for BARMM officials to be governing without any mandate."
Meanwhile, Mr. Ebrahim said a three-year period to reform the region is not enough.
"We have been requesting this extension. Very short ang three years in order to restructure the Bangsamoro government," he said at the same briefing. He also cited that the coronavirus pandemic has distracted the BTA from its outline tasks.
The BTA took over the new Bangsamoro region in mid-2019, replacing the former Autonomous Region in Muslim Mindanao. — Kyle Aristophere T. Atienza