Attempts to erase victory in sea row with China rejected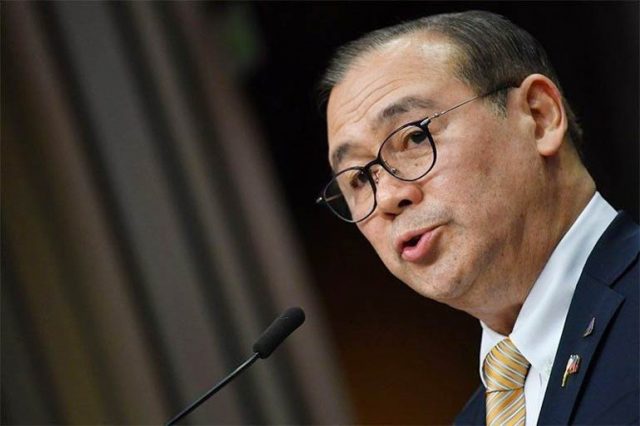 THE COUNTRY'S top envoy on Wednesday rejected attempts to undermine a 2016 ruling by an international tribunal voiding China's claim to more 80% of the South China Sea.
"We firmly reject attempts to undermine it, nay, even erase it from law, history and our collective memories," Foreign Affairs Secretary Teodoro L. Locsin, Jr. said in a statement on the fifth anniversary of the ruling.
The arbitral ruling favoring the Philippines in the sea dispute is final, he added..
Mr. Locsin said the arbitral award "was given to a set of maritime circumstances that would be as true in our waters as in others."
The Philippines has filed several diplomatic protests against China due to its continued presence in the South China Sea within the country's exclusive economic zone.
Mr. Locsin said that the arbitral award "became and continues to be a milestone in the corpus of international law."
"It is available to other countries with the same problematic maritime features as ours," he said. "It puts one issue out of the way of conflict; because there is nothing there taken by force that results in any gain in law."
The jurisprudence a Philippine gift to other countries and "benefits the world across the board."
"We do not see it as directed at any other country, near or far.  We see it as it should be seen, as favoring all which are similarly situated by clarifying definitively a legal situation beyond the reach of arms to change. It puts this aspect of international law beyond the limit of prescription," he said.
Mr. Locsin said the country is committed to having a peaceful South China Sea.
"For as long as nations abide by the rule of law and not of military might, the award is the North Star that will keep us on course in the present, and that will point us back to the right direction in the future should we, in a moment of weakness or inaction, lose our way," he said.  
Foreign ministers in Southeast Asia want to resume talks with China on a code of conduct in the South China Sea, the Department of Foreign Affairs (DFA) said on June 9.
DFA said the ministers had met to discuss peace prospects in the region.
Mr. Locsin called for "full support and sincere cooperation to achieve our collective aspiration for the South China Sea to be a sea of peace, security, stability and prosperity."
The sea should not be "a moat between the members of the family of Southeast Asian nations but a wide watery highway for trade and connection," he said.
The foreign ministers had also reiterated their commitment for the full implementation of the 2002 Declaration on the Conduct of Parties in the South China Sea, DFA said. — Vann Marlo M. Villegas