Duterte threat to arrest vaccine decliners 'legal'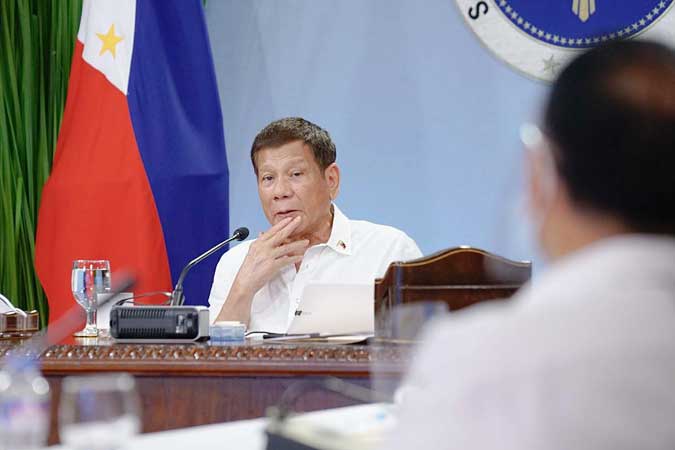 PRESIDENT Rodrigo R. Duterte's threat to have people who refuse to get vaccinated against the coronavirus arrested is legal, his chief lawyer said on Wednesday.
"We are in a state of national emergency due to the deadly pandemic," chief presidential legal counsel Salvador S. Panelo said in a statement. "Drastic times demand drastic measures."
He cited a constitutional provision that says "the maintenance of peace and order, the protection of life and the promotion of the general welfare, among others, are essential to democracy."
Mr. Panelo contradicted Justice Secretary Menardo I. Gueverra, who on Tuesday said the President's threat has no legal basis.
The Justice chief said there is no law that requires people to get vaccinated. He added that the President only used strong words to emphasize a point. But Mr. Panelo said the 1987 Constitution authorizes the government "to manage the crisis even as it works vigorously towards achieving herd immunity while our people look forward to reaching it."
"Section 15 of the same Article II directs the state to 'protect and promote the right to health of the people and instill health consciousness among them,'" he added.
"Constitutional provisions on public health, by themselves, are operative and need no subsequent legislation for their enforcement," Mr. Panelo said.
Palace spokesman Herminio L. Roque, Jr. earlier said implementing mandatory vaccination would require a law. 
Mr. Duterte, during his public address on Monday night, said he would order the arrest of those who refuse to take part in the government's vaccination program. He also threatened to require village officials to prepare a list of those who decline to be vaccinated. The President said those who do not want to be vaccinated may leave the country.
Senator Maria Lourdes Nancy Binay-Angeles has said vaccine supply, not vaccine hesitancy, is the biggest problem in the government's immunization plan.
Other lawmakers said the government should adopt a science-based approach and boost the country's supply of vaccines to address the problem.
There is no need to threaten Filipinos if there is sufficient vaccine supply, credible health information and education and an organized vaccination system, Senator Risa N. Hontiveros-Baraquel said. — Kyle Aristophere T. Atienza