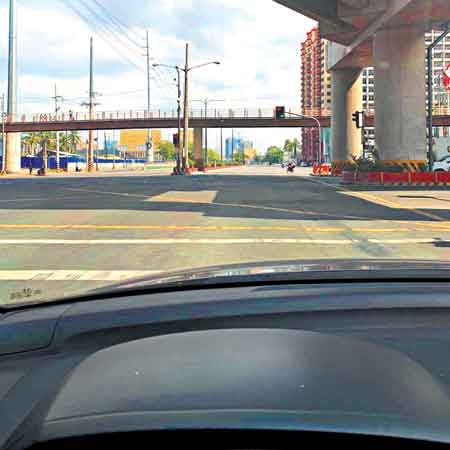 The day I went to the office on the first week of Metro Manila's lockdown, it felt like the life I knew was suddenly an episode of Charlie Brooker's Black Mirror or Rod Serling's The Twilight Zone.
Roxas Boulevard — a road that usually makes me want to pull my hair out for its heavy traffic — was empty. From Parañaque to Luneta, I must have seen fewer than 15 vehicles. The Philippine Star newsroom was quiet with just a few editors around. The things that made Metro Manila the home we both love and hate had all but disappeared — and in their place, blue skies, empty streets, long lines to get inside supermarkets, checkpoints.
That was March. It's now May and the lockdown, originally from March 15 to April 14, has been extended twice until May 15. If there is anything that COVID-19 has taught us and the rest of the world, it's that it doesn't give a f*ck about anyone's timetable — not even US President Trump's, who idiotically predicted in February that the virus would "magically go away" in April and just two weeks ago suggested injecting disinfectant into the human body to fight COVID-19.
The virus doesn't follow our calendars either, as we tick off yet another week of a summer slipping through our sanitized fingers.
With COVID-19 cases going up in Metro Manila and testing not reaching an ideal level, we have two more weeks of super enhanced community quarantine (ECQ), making it a total of eight weeks in lockdown. Our third-world country has been fighting the virus, our economy and businesses are melting down — and China is ramping up construction of artificial islands in contested waters near Palawan. This is Malacañang Palace's friend? And, no, Imelda Papin, it's not "Iisang dagat" (One sea) as your propaganda song says. This is not a time-share condo or a build-operate-transfer project; it's the West Philippine Sea and it's ours alone.
Some questions we ought to ask ourselves during this lockdown: Has the coronavirus reset our perspective in life, our notions of what's normal, what's right, what's wrong and what to fight for? Has news of abuses, both by citizens violating quarantine rules and by authorities quick to resort to violence, enraged us yet and opened our eyes to this government's lack of preparedness and — after five weeks of emergency power — a lack a coherent report on how the P275-billion fund for coronavirus response was and is being used? Have the weeks made us more patient, more generous to the poor, made us love ourselves and our families more?
Photos and videos of empty cities, airports and stadiums around the world, blue skies above skylines, mountain ranges suddenly visible from a hundred kilometers away, animals roaming city streets — it feels like we're in someone else's reality; like our time now is that one second between turning a light switch off and on again to test if the light bulb has burned out.
March was an eternity ago, April has vanished, and May — as other countries are easing restrictions — is giving us a preview of the new reality. The world has changed and so should we, but how?
The New York Times reported at the start of April that "the worldwide economic downturn could be especially deep and lengthy, with recovery limited by continued anxiety."
In the Philippines, Luzon is predicted to have an economic meltdown, many small and medium businesses are sure to shutter permanently, personal debts — from the middle class to wage earners — will grow. Rent during the lockdown can be deferred for six months from the moment it's lifted — but you still have to pay. It's the same with credit cards, they're waiving late charges but not the interest — and definitely not the balance.
The UK's Oxfam reported in a study that "half-a-billion people could be pushed into poverty by coronavirus" with the shutdown of economies. "This could set back the fight against poverty by a decade, and as much as 30 years in some regions… Over half the global population could be living in poverty in the aftermath of the pandemic."
What about travel? Many airlines will require passengers to wear face masks. Airasia, for example, states on its website a "no mask, no boarding" policy once flights resume. Experts have said that by the time we can all step out of our homes, it's to wave goodbye to budget travel as the new reality is that even airlines have to make sure there's physical distancing on flights. The fewer the passengers, the more expensive it is to operate a flight, a cost that will be shouldered by passengers of course.
Forbes reported last week that "it could take two to five years before passenger numbers return to the go-go levels of 2019" even as airlines are downsizing.
Experts have said that psychological trauma is the next crisis to hit exhausted health workers and other frontliners.
Retail and consumer spending will be a different landscape. As it should be. Because one thing our now blue skies — largely due to lack of pollution from factories — have taught us is to end our conspicuous consumption, that we should be more judicious about what we buy — and where they are made.
The list is endless but one thing that never changes whatever the crisis is the need for accurate and truthful information. And kindness. Not spin or fake news, not gaslighting by government officials.
By the time we emerge from this shelter-skelter, it'll be a different world. And hopefully a kinder, more honest one.
Visit the author's travel blog at www.findingmyway.net. Follow her on Twitter and Instagram @iamtanyalara.