Home
Technology
Recyclable waste collection app expands service to Muntinlupa and Las Piñas
Recyclable waste collection app expands service to Muntinlupa and Las Piñas
By Patricia B. Mirasol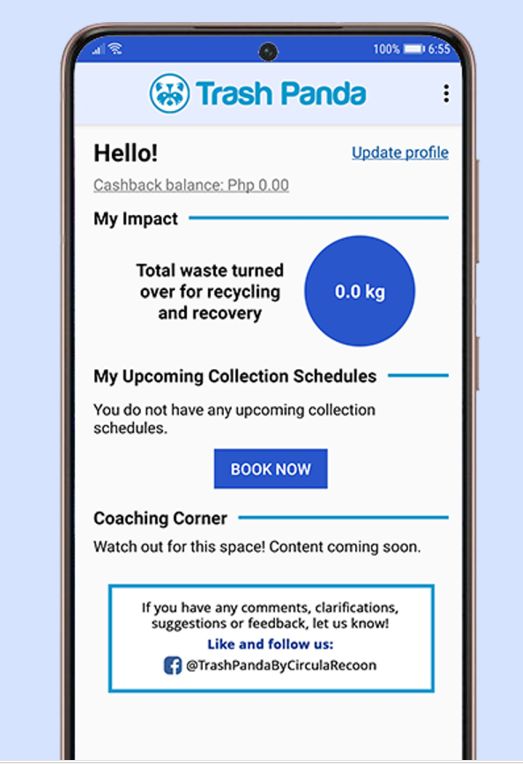 Trash Panda, a collection service app for recyclable waste, has expanded its service to Muntinlupa and Las Piñas, bringing its coverage to 13 cities in Metro Manila, and Cainta in Rizal. 
It also rolled out a web-based app for non-Android users. (The Android app was launched this March.)
Through the service, users can book the collection of recyclable items (like plastics, paper and cardboard, metals, and used beverage cartons), track the collector's estimated time of arrival, and earn from the sale of their items directly to recyclers. An impact tracker feature helps users view the total weight of the waste they had turned over to Trash Panda collectors for recycling and recovery. 
To date, Trash Panda has at least 2,200 registered users, with a high concentration in Quezon City, Manila, Pasig, Mandaluyong, and Makati. Cities covered by the app aside from those already mentioned are: Marikina, Parañaque, Pasay, Pateros, San Juan, and Taguig.
LALAMOVE FOR RECYCLABLES
The idea for Trash Panda was based on a class project one of the co-founders had under the College of Engineering's Department of Computer Science in the University of the Philippines (UP). 
"Beyond the class exercise, I gradually did more research on how to make the [solid waste management assisting] system usable in real life, and even went back to school… to gain more knowledge about environmental policy, programs, and planning," said Marie P. Sapuay, co-founder of Circula Recoon, the startup company behind the app. It was at the UP School of Urban and Regional Planning that she met her co-founder, Francis C. Dimalanta, who helped flesh out what is now Trash Panda. 
The business model is similar to delivery and courier services such as Lalamove and Transportify, Ms. Sapuay told BusinessWorld in an e-mail interview. 
Fees cover the cost of collection and transport of recyclable items, which are sent directly to recyclers under the Philippine Alliance for Recycling and Materials Sustainability. Trash Panda's fleet of light trucks collect and transport items that are clean, dry, and free from oil, food/beverage residue, and strong smells.
The startup operates independently from the traditional waste haulers that are under contract with local government units (LGUs) for regular waste collection. Its collectors are jeepney drivers and junkshop sorters whose livelihoods were displaced during the pandemic.
"They are already specialists in their own domains," said Ms. Sapuay of jeepney drivers, who already know how to move around the metro, and sorters, who know the market value of collected items. Trash Panda also trains new hires on how recyclers expect the items to be grouped together.
WASTE MANAGEMENT CRISIS
According to a Philippine Institute for Development Studies report, "waste management has been simply dumped on the shoulders of LGUs while they lack resources." 
"Barangays are also given so much in terms of mandate and responsibility, but they are the least empowered in terms of capacity and resource," said Sonny N. Domingo, one of the authors of the report.  
Meanwhile, a November 2020 opinion piece on BusinessWorld said the nation is experiencing a waste management crisis. The Philippines generated 40,000 tons of waste daily in 2016, of which only 85% are brought to landfills and dumpsites. Globally, an estimated 50% of collected urban wastes are landfilled, while 20% are combusted in waste-to-energy power plants. 
In the waste management hierarchy, methods such as prevention, minimization, and the recovery of materials through recycling and reusing are preferred over incineration and landfilling. Landfilling, in particular, produces 0.5–1 ton more greenhouse gas emissions than combustion with energy recovery. It also produces leachate, a toxic substance that can pollute land, ground water, and waterways. 
There are two different ways to interpret a zero-landfill future, Ms. Sapuay said: "Either we will easily fill in our landfills with waste well before the expected end of their lifespans and run out of land to reserve for more landfills entirely, or we Filipinos as a society would evolve to a point that landfills just won't be needed anymore."