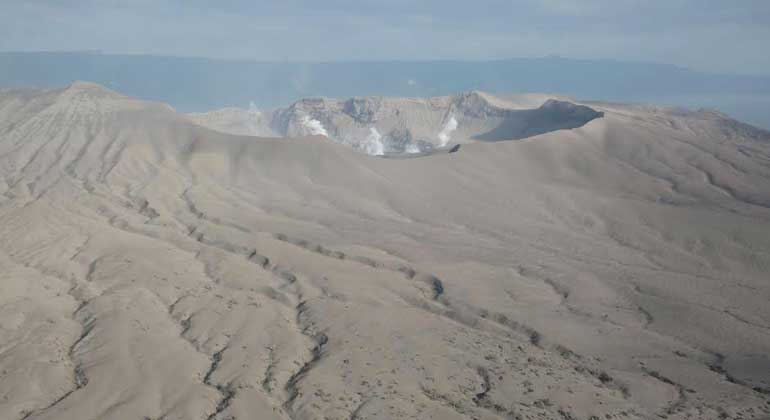 TAAL Volcano remained swollen with gas and magma, a sign that it could erupt again, state seismologists said on Tuesday.
"There is a seeming weakening of the activities but it doesn't mean the danger is over," Ma. Antonia V. Bornas, chief science research specialist at the Philippine Institute of Volcanology and Seismology (Phivolcs), said at a briefing.
Taal Volcano in Batangas province forced thousands of residents to flee after it emitted a thick ash column on Jan. 12. The ashfall covered cities near the capital, forcing financial markets to suspend trading and the Manila airport to close.
More than 68,000 families in Batangas, Quezon, Laguna and Cavite were affected by the volcano's eruption, according to the local disaster agency.
Almost 40,000 families were taking temporary shelter in 497 evacuation centers while 22,217 families were being served outside the centers, it said in a 6 a.m. report.
The second-highest alert level remained hoisted over Taal, meaning "hazardous explosive eruption is possible within hours to days," Phivolcs said in an 8 a.m. bulletin.
Phivolcs recorded "weak steam emission" from the volcano, producing ash plumes that went as high as 600 meters.
Volcanic earthquakes have become more infrequent, Ms. Bornas said, adding that there are still magma movements underground.
Phivolcs has recorded 718 volcanic earthquakes since Jan. 12, 176 of which were felt at Intensities 1 to 5.
"We have ground deformation parameters that the volcano is still inflated and is still inflating," Ms. Bornas said. "The magma is already there and the volcano can easily erupt."
These earthquakes signified "continuous magmatic intrusion beneath the Taal edifice" that could lead to further eruptions, the agency said.
Also yesterday, Albay Rep. Jose Maria Clemente S. Salceda filed a bill seeking to create a Taal Commission that will serve as the primary agency for Taal's rehabilitation.
Meanwhile, Senator Sherwin T. Gatchalian filed a resolution seeking to extend calamity loans or impose a one-year moratorium on loan payments of workers affected by Taal's eruption.
Under Senate Resolution 289 members of the Government Service Insurance System, Social Security System and Home Development Mutual Fund will be allowed to defer payments for a year.
It will "greatly alleviate the suffering brought about by the Taal volcano eruption and will help them out during their times of need," he said.
Mr. Gatchalian also proposed that affected businesses be allowed to delay payments of real property taxes and business permit renewal fees. — Genshen L. Espedido and Charmaine A. Tadalan