Shares end lower on profit taking ahead of break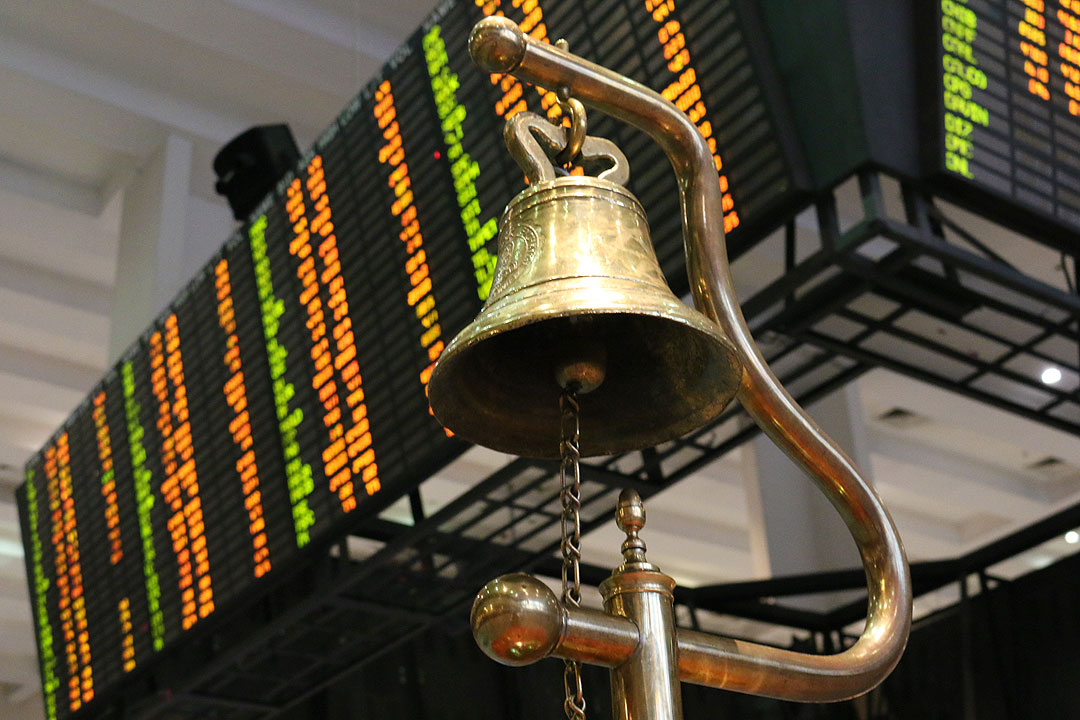 LOCAL SHARES ended in negative territory last week as investors booked gains ahead of the long weekend and on data showing more "hot money" left the country in September.
The 30-member Philippine Stock Exchange index (PSEi) declined by 77.15 points or 1.23% to finish at 6,153.43 on Friday, while the broader all shares index went down by 25.09 points or 0.76% to end at 3,257.29.
AB Capital Securities, Inc. Vice-President Jovis L. Vistan said the PSEi went down as investors pocketed their profits after the market's four-day rally.
"Local stocks weakened (on Friday) as investors took profits from recent gains," Mr. Vistan said in a Viber message.
He said the PSEi snapped its four-day winning streak as investors wanted liquidity for long weekend.
Philippine financial markets are closed for public holidays on Oct. 31 to Nov. 1.
"Along with other Asian markets, the local bourse fell as investors booked gains after four consecutive days of rally, ahead of the long weekend," Philstocks Financial, Inc. Research Analyst Claire T. Alviar said in a Viber message.
"Moreover, a wider net outflow of  foreign portfolio investments in September compared to the same period last year brought negative sentiment," Ms. Alviar added.
Data from the Bangko Sentral ng Pilipinas (BSP) released last week showed hot money posted a net outflow of $367 million in September, the biggest since the net $374 million that left the country in April 2021.
For the first nine months, foreign portfolio investments yielded a net inflow of $222 million, a turnaround from the $495-million net outflow seen in the same period last year. The BSP expects hot money to yield a net inflow of $4.5 billion in 2022.
"The PSEi corrected lower on Friday after rising for four straight days, considered healthy profit taking, before the widely expected jumbo Fed (US Federal Reserve) rate hike in November," Rizal Commercial Banking Corp. Chief Economist Michael L. Ricafort said in a Viber message.
The Fed is expected to hike rates by 75 basis points (bps) for a fourth consecutive time at its policy meeting on Nov. 1-2. It has so far raised borrowing costs by 300 bps since March.
Back home, almost all sectoral indices ended lower on Friday. Property slumped by 68.38 points or 2.58% to finish at 2,572.75; mining and oil went down by 257.51 points or 2.56% to 9,802.95; holding firms lost 95.80 points or 1.58% to end at 5,933.37; services dropped by 9.56 points or 0.59% to 1,592.33; and industrials declined by 32.65 points or 0.36% to 8,987.90.
Meanwhile, financials rose by 8.66 points or 0.54% to end at 1,588.14. 
Value turnover declined to P4.21 billion on Friday with 421.67 million shares changing hands from the P5.64 billion with 629.95 million issues traded on Thursday.
Decliners outnumbered advancers, 95 versus 70, while 58 names closed unchanged.
Net foreign selling stood at P41.54 million on Friday versus the P195.71 million in net buying recorded on Thursday. — Ashley Erika O. Jose