Sideways trading seen ahead of election results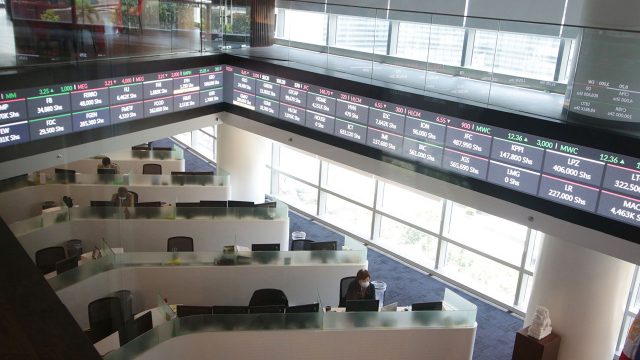 STOCKS may move sideways this week as the market awaits the results of the national elections held on Monday.
The benchmark Philippine Stock Exchange index (PSEi) fell by 109.02 points or 1.58% to close at 6,759.90 on Friday while the broader all shares index shed 41.46 points or 1.13% to close at 3,621.70.
Philippine financial markets were closed on Monday as Filipinos voted for the successor of President Rodrigo R. Duterte and other national and local posts.
There are at least 65.7 million registered Filipino voters, aside from the 1.8 million overseas voters.
"If all goes well, a new president would have been elected by the time our next weekly note goes out. Power shifts tend to cause investor jitters in lieu of policy uncertainties and unwinding of execution risk, but also tend to benefit equity-holders in the medium term, owing to higher consumer spend and aggressive policy rollouts," 2TradeAsia.com said in a report.
The online brokerage said this year's polls are "starkly different" as the country is heading into the supposed tailend of the pandemic, in an inflationary global climate, and a rate sensitive investment community.
"In other words, there may be more pent-up anxiety tied to fundamentals than ever before. Sector-wise, while consumer cyclicals tend to outperform, brace for some aversion to highly-regulated sectors, particularly infrastructure, power, and mining," it added.
Rizal Commercial Banking Corp. Chief Economist Michael L. Ricafort added that election-related spending could be a boon for the economy.
"The election campaign led to increased election-related spending, thereby could have boosted economic and business activities and could have also benefited some listed companies in terms of higher sales, net income, and valuations," Mr. Ricafort said in an e-mail.
The economy likely expanded in the first quarter thanks to favorable base effects and election spending, but the surge in global oil and commodity prices may have dampened growth momentum.
A BusinessWorld poll of 17 economists conducted last week yielded a gross domestic product (GDP) growth median estimate of 6.7% for the first three months of 2022.
If realized, this would be a turnaround from the 3.8% decline logged in the January to March period last year. However, this would be slower than the revised 7.8% growth in the fourth quarter.
This is also below the government's 7-9% target range this year.
The Philippine Statistics Authority is scheduled to report the first-quarter GDP print on May 12.
For the remainder of the week, RCBC's Mr. Ricafort placed the PSEi's immediate major support between 6,650 and 6,750, and resistance from 6,895 to 6,955.
Meanwhile, 2TradeAsia.com put the benchmark index's immediate support between 6,650 to 6,700 and resistance at 7,000. — L.M.J.C. Jocson