PHL shares decline as investors dump risky assets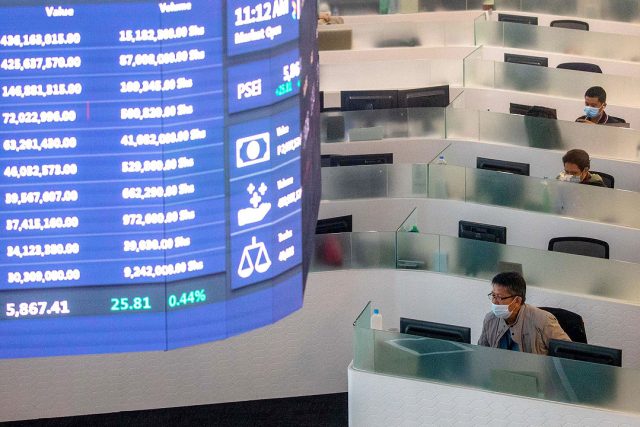 STOCKS went down on Monday as investors veer away from risky assets due to concerns over the new coronavirus disease 2019 (COVID-19) variant called Omicron.
The 30-member Philippine Stocks Exchange index (PSEi) declined 77.56 points or 1.06% to finish at 7,200.88 on Monday, while the all shares index fell 33.26 points or 0.85% to close at 3,838.13.
"Philippine shares plunged to end the month of November as the new COVID-19 variant found in South Africa triggered a global shift away from risk assets," Regina Capital Development Corp. Head of Sales Luis A. Limlingan said.
Financial markets are closed on Tuesday, Nov. 30, in observance of Andres Bonifacio Day.
The new COVID-19 variant has pushed various governments to impose stricter border controls as it spread to more countries, Reuters reported.
Initially detected in South Africa last week, the Omicron variant — which the World Health Organization described as more transmittable than other variants — has cases found in Hong Kong, Britain, Germany, Italy, Belgium, Botswana, Israel, Hong Kong, Netherlands, Denmark, and Australia.
Asian markets were trying to regain some composure on Monday as the spread of the Omicron variant in developed nations threatened to derail economic recoveries and the tightening plans of some central banks, Reuters reported separately.
MSCI's broadest index of Asia-Pacific shares outside Japan was down 0.2%, but with few markets yet open.
"The PSEi was also lower after the target vaccination versus COVID-19 from Nov. 29 to Dec. 1 was reduced to 9 million," Rizal Commercial Banking Corp. Chief Economist Michael L. Ricafort said in a Viber message on Monday.
The government is holding a three-day nationwide vaccine drive to push the country closer to its target to inoculate 70% of the population or nearly 54 million by yearend. A second leg will happen on Dec. 15 to 17.
Majority of sectoral indices closed in the red on Monday except services, which gained 10 points or 0.50% to finish at 1,986.48.
Meanwhile, industrials slid 181.67 points or 1.71% to 10,439.75; holding firms decreased 107.43 points or 1.52% to 6,932.84; financials dipped 16.65 points or 1.04% to 1,569.85; property lost 27.18 points or 0.81% to 3,297.13; mining and oil slipped 44.76 points or 0.47% to 9,440.56.
Value turnover increased to P28.02 billion with 2 billion issues switching hands on Monday from the P9.97 billion with 1.04 billion shares traded on Friday.
Decliners outnumbered advancers, 150 versus 57, while 45 names closed unchanged.
Foreigners turned buyers anew, logging P651.50 million in net purchases versus the P545.03 million in net sales seen on Friday.
"In the remaining days of the week, we'll have to see if 7,060 holds, otherwise, 7,454.50 seems to be the closest resistance level," Timson Securities, Inc. Trader Darren Blaine T. Pangan said in a Viber message. — M.C. Lucenio with Reuters