Stocks to move sideways ahead of data, earnings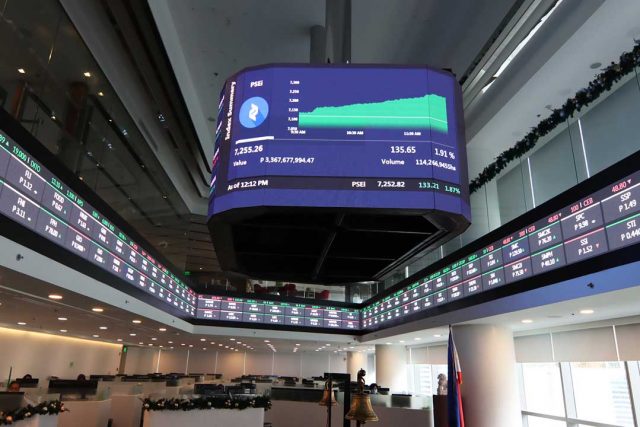 STOCKS could move sideways this week ahead of the release of economic data and third quarter financial reports of more companies.
The 30-member Philippine Stock Exchange index dropped by 103.03 points or 1.43% to close at 7,054.70 on Friday, while the broader all shares index lost 34.06 points or 0.77% to end at 4,386.79.
For this week, "investors will continue to digest more earnings… and other macroeconomic data to help with their projections for 2022," Regina Capital Development Corp. Sales Head Luis A. Limlingan said in a Viber message.
More companies are expected to release their financial reports this week. Economic reports set to come out in the coming days include the Markit Purchasing Managers' Index, as well as data on employment, inflation and trade.
US data to be released this week may also affect trading at the stock market, Rizal Commercial Banking Corp. Chief Economist Michael L. Ricafort said.
"Most of the upcoming US economic data expected could still show some recovery from previous levels, especially the latest (Federal Reserve) monetary policy-setting meeting on Nov. 3 and the latest US employment/jobs data on Nov. 5," Mr. Ricafort added.
Markets are also anticipating the government to further reopen the economy in November and December as the number of coronavirus cases decline, in time for the holidays, which is when spending is expected to go up, Mr. Ricafort said.
Daily coronavirus infections in Manila, the capital and nearby cities would probably fall to 500 by mid-November, according to researchers from the University of the Philippines.
Metro Manila is now under Alert Level 3, which allows 50% capacity for outdoor services and 30% capacity for indoor activities.
The Department of Health reported 3,410 coronavirus cases on Sunday, bringing the total to 2.8 million.
The death toll rose to 43,172 after 128 more patients died, while recoveries increased by 5,825 to 2.7 million, it said in a bulletin.
There were 45,233 active cases, 73.6% of which were mild, 4.9% did not show symptoms, 6.8% were severe, 11.83% were moderate, and 2.9% were critical.
Presidential adviser for entrepreneurship Jose Maria "Joey" A. Concepcion III has been urging the government to place the region under Alert Level 2 to boost business recovery.
As of Oct. 31, over 59 million vaccines against the coronavirus have been administered nationwide, according to Presidential Adviser Carlito G. Galvez, Jr. Of the 59 million, 27.29 million are fully vaccinated, while 31.9 million have received their first dose.
Meanwhile, investors will also monitor Villar-owned AllDay Marts' initial public offering, Timson Securities, Inc. Trader Darren Blaine T. Pangan said.
Mr. Pangan said "6,940 seems to be the next support area to watch, while 7,320 may be considered the closest resistance level for the index" this week. — B.A.D. Añago