Shares drop on COVID-19 worries, lack of leads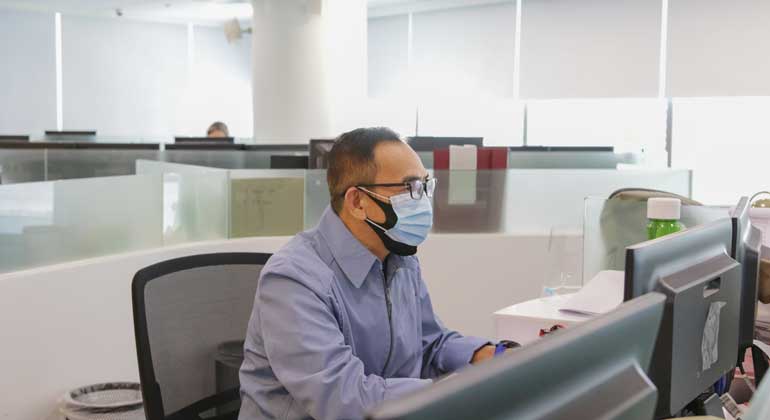 PHILIPPINE shares declined on Thursday amid a lack of fresh leads and as coronavirus disease 2019 (COVID-19) infections in some Asian economies surged.
The Philippine Stock Exchange index (PSEi) went down by 107.48 points or 1.57% to close at 6,727.93 on Thursday, while the all shares index declined by 44.46 points or 1.05% to end at 4,183.02.
"The local market was back in the red on lack of positive catalysts," AB Capital Securities, Inc. Junior Equity Analyst Lance U. Soledad said in a Viber message.
"The surging virus cases in Asia is concerning, especially for the Philippines, as positivity rate and daily COVID-19 cases continue to be high," he added.
The Health department reported 3,806 new COVID-19 infections on Wednesday, bringing active cases to 44,408 and the country's total case tally to 1,485,457.
Meanwhile, Indonesia reported a record single-day tally of 54,517 new infections on Wednesday. Singapore also logged its highest number of local COVID-19 cases in the last ten months on Wednesday with 56 new community infections.
"Philippine shares slid while investors focused again on the US as [Federal Reserve] Chairman [Jerome] Powell's two-day testimony before Congress started," Regina Capital Development Corp. Head of Sales Luis A. Limlingan said in a separate Viber message.
Mr. Powell on Wednesday pledged "powerful support" to complete the US economic recovery from the coronavirus pandemic, but faced sharp questions from Republican lawmakers concerned about recent spikes in inflation, Reuters reported.
In testimony to the US House of Representatives Financial Services Committee, Mr. Powell said he is confident recent price hikes are associated with the country's post-pandemic reopening and will fade, and that the Fed should stay focused on getting as many people back to work as possible.
Any move to reduce support for the economy, by first slowing the US central bank's $120 billion in monthly bond purchases, is "still a ways off," Mr. Powell said, with 7.5 million jobs still missing from before the pandemic.
Back home, majority of sectoral indices closed in the red on Thursday except for mining and oil, which went up by 88.88 points or 0.9% to 9,881.65.
Meanwhile, holding firms shed 126.65 points or 1.83% to 6,762.06; services declined by 24.08 points or 1.49% to 1,584.75; financials went down by 21.22 points or 1.43% to 1,455.09; industrials lost 97.75 points or 1.01% to end at 9,510.37; and property decreased by 32.54 points or 1% to finish at 3,202.33.
Value turnover inched up to P4.89 billion with 982.45 million issues traded on Thursday from the P4.37 billion with 1.02 billion shares logged on Wednesday.
Decliners outnumbered advancers, 121 against 70, while 57 names closed unchanged.
Net foreign selling increased to P551.11 million on Thursday from the P170.11 million on Wednesday.
"For now, we expect the market to trade with a downward bias," AB Capital Securities' Mr. Soledad said. — K.C.G. Valmonte with Reuters