PHL stocks drop as Fitch Ratings lowers outlook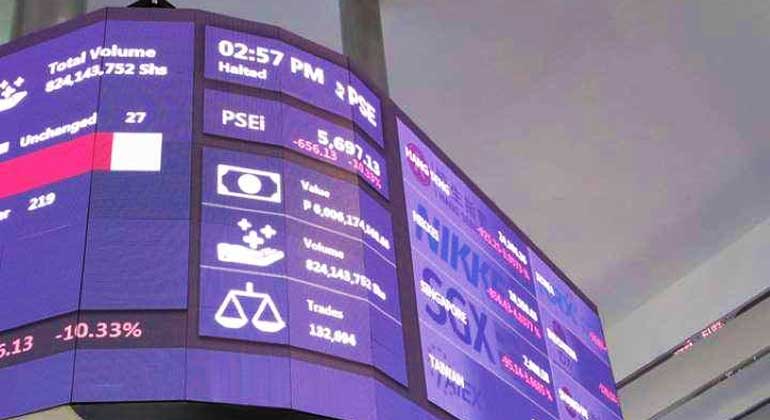 STOCKS closed in the red on Tuesday after global debt watcher Fitch Ratings downgraded its outlook for the country.
The Philippine Stock Exchange index (PSEi) declined by 118.74 points or 1.71% to close at 6,795.13 on Tuesday, while the all shares index went down by 54.26 points or 1.27% to end at 4,215.76.
"The market gave up all its gains from the previous session which is proof that investors are anxious at current price levels," AAA Southeast Equities, Inc. Research Head Christopher John Mangun said in an e-mail.
"This could have been a ripple effect of Fitch lowering the credit rating of the Philippines, and of fears that other credit rating agencies may do something similar," COL Financial Group, Inc. Chief Technical Analyst Juanis G. Barredo said in a Viber message.
"A lower credit rating is expected to adversely affect our borrowing cost which is not welcome amid challenging times and a struggling economy," Philstocks Financial, Inc. Research Associate Claire T. Alviar said in a Viber message.
Fitch on Monday maintained its investment grade "BBB" credit rating for the Philippines but revised its outlook to "negative" from "stable," citing the impact of the prolonged coronavirus pandemic.
The "negative" outlook means Fitch may downgrade the Philippines' credit rating if it reverses reforms or departs from the prudent macroeconomic policy framework that leads to continued higher fiscal deficits. A weaker macroeconomic outlook over the medium term and "diminishing policy credibility" may also lead to a downgrade.
All sectoral indices closed in the red on Tuesday. Property shed 75.11 points or 2.25% to 3,250.84; holding firms lost 139.75 points or 2.01% to 6,811.72; financials went down by 23.15 points or 1.55% to close at 1,464.36; mining and oil shaved off 126.05 points or 1.28% to 9,704.85; industrials declined by 88.61 points or 0.91% to 9,580.39; and services inched down by 0.65 point or 0.04% to finish at 1,615.78.
Value turnover went up to P5.78 billion with 1.89 billion issues traded on Tuesday, from the P4.84 billion with 2.09 billion shares that switched hands the previous day.
Decliners beat advancers, 125 versus 66, while 51 names closed unchanged.
Net foreign selling surged to P1.03 billion on Tuesday from P205.18 million on Monday.
"Sideways movement with a downward bias is expected [on Wednesday] as many investors remain on the sidelines waiting for the market to establish a strong support area," Philstocks Financial's Ms. Alviar said. "Traders are also on the lookout for the next quarantine guidelines after July 15."
COL Financial Group's Mr. Barredo added that the market could consolidate.
"It swung into a corrective phase six days ago after seeing a high of 7,064 and now moves to test its first support at around 6,770 to 6,750," he said. "This support would then be followed by a more important demand zone at 6,670." — Keren Concepcion G. Valmonte