The world-renowned brand remains resolute in its commitment to recycling, upcycling coffee capsules in the Philippines
Nespresso is synonymous with great coffee. For almost four decades, it has continuously redefined and revolutionized the way millions of people around the world enjoy their coffee, ultimately influencing coffee culture.
Aside from great coffee, the trailblazing brand is also known for its coffee machines and capsules, with the latter an innovation it has helped popularize. The popularity of Nespresso's coffee capsules through the years comes as no surprise, as the little colorful capsules of ground coffee beans are known for their consistent quality and unbeatable convenience.
The rise of the coffee capsule, however, is not without a downside. As usage grew, concerns about the environmental impact of single-use coffee capsules also heightened. Many of them are made from materials that are not easily recyclable, leading to issues of waste management.
Building sustainability one coffee capsule at a time
Alongside great coffee and coffee capsules, Nespresso is also known for one other thing: sustainability. This is one of the main reasons why the brand uses only aluminum capsules. Aluminum is not just 100% recyclable; it is infinitely recyclable. Each recycled or upcycled capsule comes back as a different useful object: wheelchairs for PWDs, earrings for fashionistas, a Swiss army knife, or another coffee capsule!
And in 2017, in a bid to further promote sustainable coffee drinking, Nespresso set up capsule-collection systems in 36 countries to encourage club members to return their used coffee capsules for recycling or upcycling. Recycling bags are provided free of charge.
Fast-forward to 2023 in the Philippines, Nespresso has already made great strides when it comes to sustainability, especially in the use and reuse of its coffee capsules. Your coffee capsule's life cycle doesn't end the moment it is used. In fact, a new chapter in its life is only about to unfold — that is, if you choose to have it recycled or upcycled, either way, your aluminum capsule is given new life and purpose.
In its efforts to promote the sustainable use of its aluminum capsules, Nespresso has partnered with the Negrense Volunteers for Change Foundation, Inc. or NVC which upcycles used coffee capsules. The vibrant empty aluminum capsules are given a new lease on life, transformed into charming trinkets such as bracelets, earrings, necklaces, and face mask lanyards. NVC's used-capsule Christmas decorations have also gained popularity over the years.
Aside from being an invaluable partner in Nespresso's sustainability drive, NVC is able to feed undernourished children, send kids to school, and provide livelihood to local artisans through the proceeds from its sales.
Another partner in Nespresso's sustainability journey is Smart Recycle PH, which also separates the residual coffee grounds from the aluminum capsules. It then forwards the aluminum to Metal Bank, a recycler of scrap metals, which turns it into aluminum bars and sheets for automotive and motorcycle spare parts, among other things. The partnership between Smart Recycle PH and Nespresso started in 2022, with 2,824 kilograms of aluminum coffee capsules diverted since then.
The recycling/upcycling journey
Your tiny coffee capsule's recycling and upcycling journey starts the moment you choose to drop it into a Nespresso recycling bag, rather than chucking it into a waste bin. Each recycling bag holds about 200 original line capsules and 100 for the larger Vertuo capsules.
Nespresso club members know the drill. Once a recycling bag is full, you can drop it off at a Nespresso Boutique, pop-up store, or any participating drop-off point. You can also turn in your full recycling bag the next time you have your orders delivered at home through Nespresso's official online store.
From there, the bags are picked up, transported to the Nespresso warehouse where the capsules are sorted — some plastic ones still get mixed up after all! And that's another reason why it's important to choose coffee capsules made of aluminum. The aluminum capsules are then separated from the residual coffee.
The used coffee grounds that are sent back to Nespresso are forwarded to local farms to be transformed into compost or fertilizers for vegetable farming. Still unknown to many coffee drinkers, used grounds have many benefits like improving drainage, aerating soil, and acting as a natural pest repellent.
Nespresso's partners in this endeavor include Brgy. Chrysanthemum in San Pedro, Laguna; Quezon City Memorial Park; Holy Carabao! in Sta. Rosa, Laguna; and the Department of Agriculture.
An afternoon of coffee, sustainability, creativity
Last Aug. 19, Nespresso, in partnership with Joy~Nostalg Hotel & Suites Manila Managed by Accor in Ortigas Center, Pasig, held "Nespresso SustainaBUILD: A Journey of Nespresso's Recycling and Upcycling Sustainability Program," a special event for its loyal club members. Guests were treated to an afternoon of good coffee courtesy of Nespresso Coffee Ambassador JR Abril, while learning more about the brand's ongoing sustainability efforts.
They were also given the chance to experience first-hand some aspects of the coffee capsule recycling/upcycling journey, like cleaning used coffee capsules with cotton buds and making their own trinkets using pre-molded capsules.
The intimate event was made even more memorable with a menu of coffee-infused afternoon treats courtesy of Joy~Nostalg Hotel & Suites Manila, which has been a staunch partner of Nespresso in its sustainability efforts. The Coffee-rubbed Petit Beef Wellington Whiskey Glaze, Falafel Lettuce Coffee Wraps infused with Tahini Boba, and Coffee Mousse Chocolate Cake were especially mouthwatering.
"We are counting on your help"
During the event, Millet Roque-Valdez, commercial and marketing head of Nespresso Philippines, emphasized that Nespresso's sustainability journey starts with your decision to recycle one coffee capsule. "Without this step, we cannot proceed with the other steps," she stressed. "The key here would be our Nespresso Club members, so we are asking for your help as responsible consumers, and to help us spread the word. We need people to do their part, give their used capsules, so we can make sure that they don't end up as waste."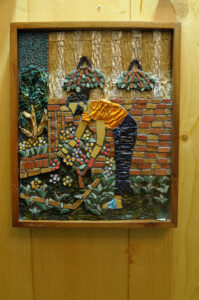 To further strengthen Nespresso's commitment to sustainable coffee drinking, it started the "SustainaBUILD: Plant, Sow & Grow" program, a collaborative effort where club members act as "an instrument for the growth" of Nespresso's Sustainability Program by referring organizations as potential sustainability partners. By participating in this program, club members help expand the reach and impact of Nespresso's sustainable practices, while organizations benefit from becoming part of a broader sustainability network of Nespresso.
"Our dream is to recover 100% of the capsules that we sell. We have made significant improvements in the last two years, but we have a long way to go. We are counting on your help," said Millet.
For more information and to order, visit Nespresso PH's official website at https://www.nespresso.ph/ or its social media pages on Facebook and Instagram. Nespresso PH also has flagship stores on Lazada and Shopee. For referral of organizations, email Nespressoclub@nespresso.ph. — Johanna L. Añes-De La Cruz
---
Spotlight is BusinessWorld's sponsored section that allows advertisers to amplify their brand and connect with BusinessWorld's audience by enabling them to publish their stories directly on the BusinessWorld website. For more information, send an email to online@bworldonline.com.
Join us on Viber at https://bit.ly/3hv6bLA to get more updates and subscribe to BusinessWorld's titles and get exclusive content through www.bworld-x.com.