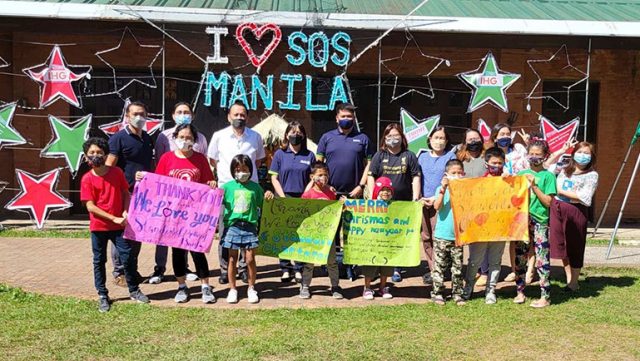 Standard Chartered Bank (SCB), the oldest international bank in the Philippines, through its global program Futuremakers, has partnered with SOS Children's Villages Philippines to provide its youth with decent employment and alternative sources of income through partnership development and various capacity-building interventions. Futuremakers tackles and addresses inequality by promoting greater economic inclusion for disadvantaged young people in our communities through programs focused on education, employability, and entrepreneurship.
As the bank celebrates its 150th anniversary in the Philippines this year, SCB reaffirms its commitment to lifting participation — improving the lives of people by providing equitable access to financial education and seed funding for youth-led businesses, especially businesses led by young women and those with disabilities.
The donation will benefit more than 1,400 young individuals from SOS Children's Villages including young women and those with learning, mental and physical disabilities. The project will pilot at least five business centers as venues for entrepreneurial training, and establish partnerships with the government and private sector organizations for youth employability projects such as youth mentoring, soft skills training, capacity building, organizational skills training, and reproductive health awareness. It will also support digital upskilling of the youth beneficiaries as technological innovation is a critical lever to sustainability.
A simple turnover of donation ceremony was held recently at the SOS Children's Village in Alabang attended by representatives from SOS Children's Village Philippines, Standard Chartered Bank Corporate Affairs, Brand and Marketing Head Mai Sangalang and employee volunteers of the bank.
Highlighting SCB's commitment to financial inclusion, Ms. Sangalang said, "We believe that everyone should have access to opportunities and be able to realize their full potential. Yet, there are many young people who live on very low-income or out of work, and that's just not good enough. Through Futuremakers, Standard Chartered aims to support disadvantaged young people, especially, to learn new skills and improve their chances of getting a job or starting their own business."
SOS Children's Villages Philippines OIC and Deputy National Director Romil Rayos Del Sol said, "SOS Children's Villages Philippines has produced many success stories over the years. Some of the children have become pilots, accountants, teachers, engineers, social workers, doctors, and police officers. But the actual social return of investment is how these children became independent and ended the cycle of abandonment."
In July 2020, the youth unemployment rate in the Philippines grew to 22.4%, an approximate 1.7 million Filipinos aged 15 to 24 years old were without work. Children from low-income families lack access to education, basic social services and livelihood opportunities. Aggravated by the COVID-19 pandemic, more children and young people are becoming more vulnerable. This is a most opportune time for the bank to amplify government's efforts to address youth unemployment in the country.
---
Spotlight is BusinessWorld's sponsored section that allows advertisers to amplify their brand and connect with BusinessWorld's audience by enabling them to publish their stories directly on the BusinessWorld Web site. For more information, send an email to online@bworldonline.com.
Join us on Viber to get more updates from BusinessWorld: https://bit.ly/3hv6bLA.