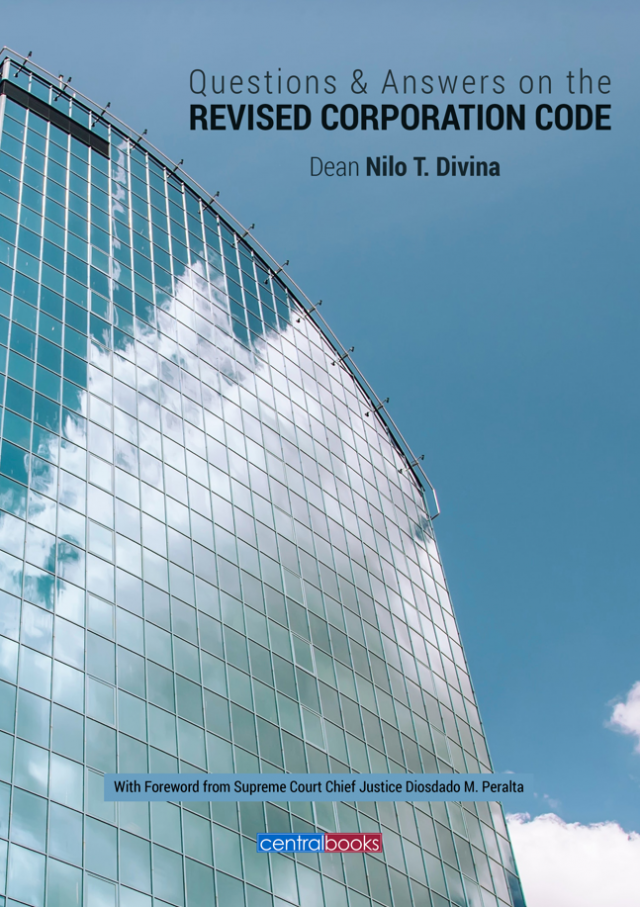 Touted in the academe and in the legal industry as "well-researched, well-written, and heaven-sent''—the very first e-book on the revised corporation code is now available.
Authored by University of Santo Tomas Faculty of Civil Law Dean and DivinaLaw Managing Partner Nilo T. Divina, "Questions & Answers on the Revised Corporation Code" is a comprehensive compendium of the jurisprudence on corporation law, SEC opinions, and other legal resource materials written in simple and concise language.
Divina's opus has been described as "straight-to-the-point and easy reading" by former University of the Philippines College of Law Dean Fides C. Cordero-Tan. "The Q&A format is genius. This is a good textbook for law students, resource material for non-lawyers (managers/corporate secretaries), and reviewer for Bar takers."
In his foreword for the book, then-Supreme Court Chief Justice Diosdado M. Peralta hailed it as "a well-curated legal resource" and "a useful tool in navigating the new state of Philippine corporate law."
The "Questions & Answers on the Revised Corporation Code" e-Book is available at the Central Books website: https://central.com.ph/bookstoreplus/products/AAD145/.
Spotlight is BusinessWorld's sponsored section that allows advertisers to amplify their brand and connect with BusinessWorld's audience by enabling them to publish their stories directly on the BusinessWorld Web site. For more information, send an email to online@bworldonline.com.
Join us on Viber to get more updates from BusinessWorld: https://bit.ly/3hv6bLA