2020 would have been another promising year for Metro Pacific Investments Corporation (MPIC), with its focus on infrastructure investment, to increase the country's infrastructure capacity and provide inclusive access on power, water and sanitation, and transportation solutions.
The group's consolidated Core Net Income (CNI) of ₱3.4B in the first quarter, with power accounting for ₱2.87B (62%), tollroads at ₱0.92B (20%), water at ₱0.86 billion (18%), and contribution from hospitals, rail, logistics and other businesses, offset each other.
The said figure went down by 6% from ₱3.7 billion in the same period last year, largely due to the economic contraction caused by the pandemic.
Manila Electric Company posted a CNI of ₱5.7B, Global Business Power had ₱ 0.4B, Metro Pacific Tollways Corp. had₱0.9B, and Maynilad Water, ₱1.6B.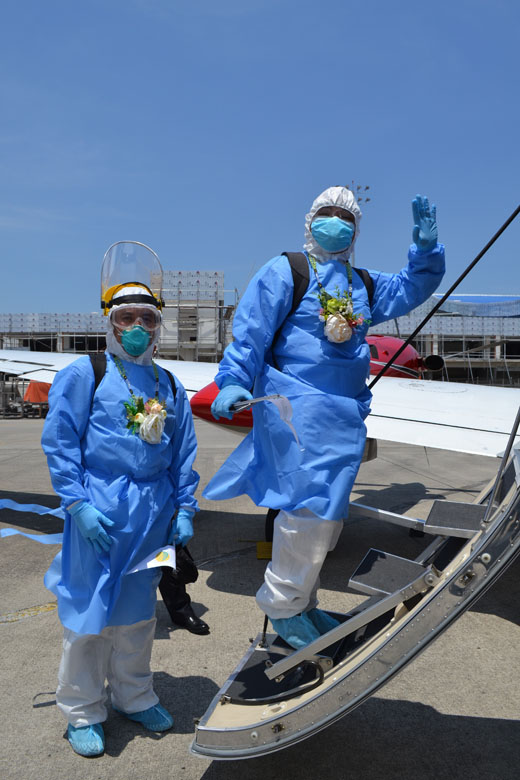 "The robustness of our operations, even in these difficult times, reflects a decade and more of sustained capital investment. Our talented management and dedicated front-line employees deserve our gratitude in these trying times," says MPIC President and Chief Executive Officer Jose Ma. Lim.
He added that the group is well funded due to the ₱30.1B sell down of its interest in the hospitals business in 2019 and the suspension of its share buy back program and discretionary projects.
As a responsible corporate citizen, the conglomerate responded to the COVID-19 outbreak by channeling much of its effort on emergency response and going the extra mile in strengthening the delivery of essential utilities and services under its stewardship.
Through Tulong Kapatid, the corporate social responsibility alliance of foundations and companies under the MVP Group of Companies, as well as thedonations of its employees, the conglomerate provided substantial support to the government's drive to curb the pandemic and reach out to the society's vulnerable sectors.
In the crucial weeks of the enhanced community quarantine, Meralco and Maynilad provided stable supply and deferred payments on power and water, respectively, while MPTC kept the smooth flow of essential goods, services and essential workers through the tollways.
Metro Pacific Hospital Holdings Inc. (MPHHI) upgraded its overall bed capacity, made medical services available 24/7 in its nationwide network, and designated the Our Lady of Lourdes Hospital in Manila as its main COVID-19 referral facility. It also extended its expertise in the construction of quarantine and isolation facilities across the country.
As of July 2020, MPIC has shared a total of P350M in aid to government agencies, hospitals, local governments, community organizations, and individual beneficiaries.
This assistance came in the form of medical personal protective equipment, food packs to front-liners, health care packages and medical kits, deferred billings, waived fees, extended electric subsidies, transportation and logistics support, livelihood projects, direct grants to the PhilippineDisaster Resilience Foundation, andrelief support to marginalized groups.
Looking Forward
The COVID-19 pandemic illustrated both the strength of MPIC's offerings and the need for more diligent focus on sustainability. And with the extraordinary circumstances notwithstanding, the group has made significant progress on the key industries it is involved in.
"Beyond figures, our priorities are in order—the welfare of our people, service to our customers, cash preservation, and profitability. Despite the unpredictable environment, the resiliency of our major companies assures us we can rebound and excel through this crisis," says MPIC Chairman Manuel Pangilinan.
He said that with the gradual easing of the quarantine relations, its firms have been back on track with its programs to help restart the local economy.
Meralco has spent ₱4.2B on capital expenditures to address critical loading of facilities and support new demand and customer connections. It has also electrified outlying islands through microgrid implementations by leveraging on solar and battery energystorage.
MPTC has earmarked ₱107B on current projects and will allocate ₱25B once it secures the Cavite-Tagaytay-Batangas Expressway. It has opened the first subsection of the Cavite-Laguna Expressway, andthe North Luzon Expressway's Harbor Link Malabon Exit. The latter's 2.6-km elevated expressway will be completed in the second half of 2020 and will drastically reduce travel time and benefit the transport logistics industry.
Moreover, the Cebu–Cordova Link Expressway, the first tollway in the Visayas, has resumed construction and is expected to be completed in October 2021 and decongest traffic situation in Metro Cebu.
Global Business Power Corp.is strengthening ancillary services and exploring investments in renewable energy to complement its fossil fuel capacity.
Construction is ongoing for the joint venture between METPower Venture Partners Holdings, Inc. and Dole Philippines for waste-to-energy biogas plants in South Cotabato, while awaiting go signal for the 36-mw Quezon City Solid Waste Management Facility Project.
MetroPac Water Investments Corp. has strengthened treatment plants to become earthquake-proof, expanded supplytreatmentcapacity, and increasedwater supply. Water coverage has grown to 9.7 million consumers, while some 3,151 kms. of new pipes have been laid, and its NRW at the DMA level was at 24.8% by March, saving one billion liters daily.
The National Water Resources Board has increased Maynilad's allocation for domestic use in Metro Manila and adjacent cities by four cubic meters per second, enabling it to optimize treatment facilities, reducelosses, and increase distribution.
Outside its Maynilad concession, MPW currently bills 359 million liters a day (MLD), with expansion plans of up to 602 MLD in Laguna, Iloilo, and Cagayan de Oro, and 660 MLD in Vietnam.
Meanwhile, Light Rail Management Corp.'s CNI fell by 19%, but progress of the LRT-1 Cavite Extension has reached 40% completion since resumption of construction.
Last but not least, Metropac Movers, Inc. is set to construct first-class warehousing and cold storage facilities warehouses along the Sta. Rosa-Tagaytay Road.
"Now more than ever, Metro Pacific will enhance its resolve to invest, manage and transform key industries to help the country get back on its feet and regain its competitive edge in Asia," Pangilinan concluded.