Marcial assured of bronze with knockout of Thai foe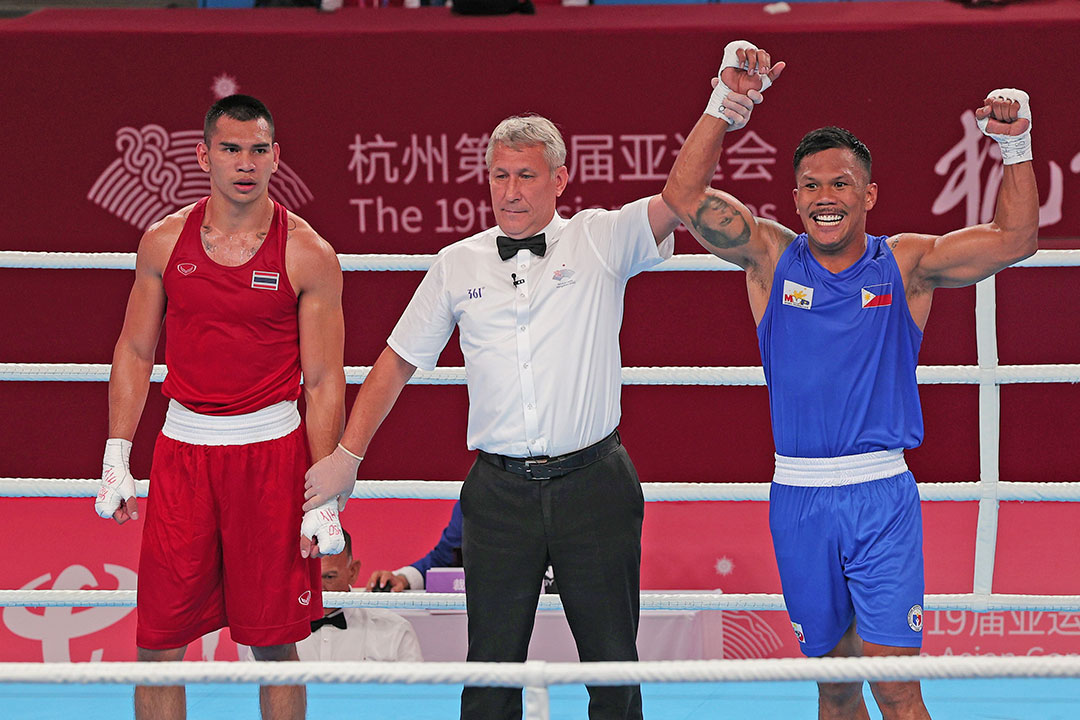 Paalam up against world champion foe in quarterfinals
HANGZHOU, China —  Eumir Marcial shrugged off some anxious moments in the opening round to score a stirring knockout of Weerapong JongJoho and claim a seat in the semifinals of the 19th Asian Games boxing competitions late Sunday night.
The 27-year-old Olympian set up his Thai opponent with a perfect right hook that put JongJoho down in the canvas to hack out the impressive win before an animated crowd at the Hangzhou gymnasium.
The end came with 14 seconds left in the second round.
Mr. Marcial is now assured of the bronze medal in the men's 80 kg class, but has a shot of advancing in the gold medal round should he get past Ahmad  Ghousoon of Syria in Wednesday's semifinals.
For a while, a podium finish was hanging in the air for Mr. Marcial after Mr. JongJoho tagged him with a straight right that wobbled his legs, prompting the referee to give him a standing eight count.
But having been to a lot of wars, the Olympic bronze medalist didn't panic and kept his composure.
It was a perfect right hook Mr. Marcial delivered that Mr. JongJoho didn't know what exactly hit him when he stood up as the referee guided him to his corner.
Now Ghousoon awaits Mr. Marcial in the semis set on Wednesday.
The Syrian fighter won by unanimous decision, 5-0, against Shabbos Negmatulloev of Taijikistan in the other quarterfinal match.
PAALAM QUARTERFINAL MATCH
Carlo Paalam hopes to follow fellow Olympian Eumir Marcial in the boxing semifinals of the 19th Asian Games, but will be up against a tough opponent in reigning world champion Carlo Khalokov Abdumalik of Uzbekistan in Tuesday's quarterfinal round.
Mr. Paalam climbs the ring against the 23-year-old Uzbek at 7:30 p.m. at the Hangzhou gymnasium.
The Tokyo silver medal winner needed to dispatch Uulu Munarbek Seiitbek of Kyrgystan in the Round-of-16 by the score of 4-1 to reach the quarterfinals. Mr. Seiitbek, 27, was bronze medalist in the last World Championship in Tashkent, Uzbekistan.
Now, Mr. Paalam will have to go through no less than the gold medal winner himself in a bid to join Mr. Marcial in the semis.
Daunting the task may be, but head coach Ronald Chavez likes the chances of Mr. Paalam opposite Khalokov. — POC-PSC media pool