COLLEGE of St. Benilde (CSB) overpowered Jose Rizal University, 25-13, 25-21, 25-9, on Sunday to secure a place in the Final Four in the 97th NCAA volleyball tournament at the Paco Arena.
Jade Gentapa unleashed a masterful 16-point effort while flamboyant Michelle Gamit scattered 12 hits as the Lady Blazers rolled to their seventh straight victory that secure them a place in the semifinals.
It was another dominating win for CSB, which moved two games away from sweeping the elimination round and barging into directly to the best-of-three championship.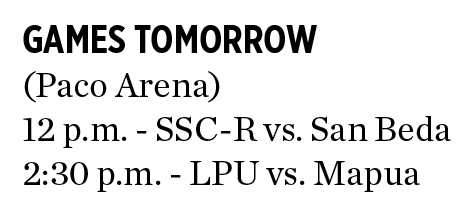 It clashes with University of Perpetual Help on Wednesday and reigning three-peat champion Arellano University on Saturday in its last two games.
Interestingly, the Lady Blazers matched their blistering 7-0 start in the league's last season two years ago that was eventually called off due to the coronavirus disease 2019 (COVID-19) pandemic.
"We'll just continue to work and train harder," said CSB coach Jerry Yee, who is hoping to steer the Taft-based school to its second league crown since going all the way seven years back.
Skipper Mycah Go, Jhasmine Gayle Pascual and Cristy Ondangan also helped in the cause and chipped in seven points apiece.
The Lady Bombers sputtered to 3-4 but remained in Final Four contention. — Joey Villar