Santo Tomas shoots for sweep vs reigning titlist Ateneo
STREAKING Santo Tomas shoots for a sweep of reigning champion Ateneo to firm up hold of second spot and stay lurking behind unbeaten National University (NU) entering the crucial stretch of the University Athletic Association of the Philippines (UAAP) Season 84 women's volleyball tournament second round at the Mall of Asia Arena in Pasay City.
The Golden Tigresses (7-2) tie knots with the struggling Blue Eagles (4-5) at 10 a.m. in the second rematch of the last UAAP volleyball finals before the pandemic with a win for them beefing up their Final Four aspirations.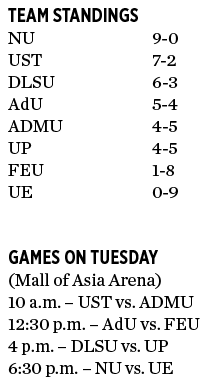 Fourth-running Adamson (5-4) battles Far Eastern University (FEU) (1-8) at 12:30 p.m. to stay in the playoff picture so far followed by La Salle (5-3) and University of the Philippines (UP) (4-5) at 4 p.m. in the pivotal duel at the middle pack of team standings.
In the main game at 6:30 p.m., unblemished NU (9-0) aims to move four games away from notching an outright finals berth against also-ran University of the East (UE) (0-9).
Led by UAAP top scorer Eya Laure, Santo Tomas last tasted a loss against No. 1 NU in the first round before going on a four-game winning spree including a tough 25-19, 25-21, 29-31, 33-31 win over Ateneo.
The Golden Tigresses last week came off a gutsy 25-20, 18-25, 26-24, 25-23 win over UP, paving for an expected uphill climb against the Blue Eagles that are out for sweet vengeance to boost their own Final Four drive.
Coach Kungfu Reyes said Santo Tomas fended off a strong UP resistance for a huge win before gauging Ateneo anew.
Santo Tomas finished runner-up in Season 81 before the UAAP hiatus behind Ateneo, which is yet to spread its wings in a tough title retention bid so far.
After a 0-3 start, the Blue Eagles are having a back and forth campaign marred by another 25-18, 20-25, 19-25, 18-25 loss against NU over the weekend. — John Bryan Ulanday