PBA to conduct three-conference calendar for Season 47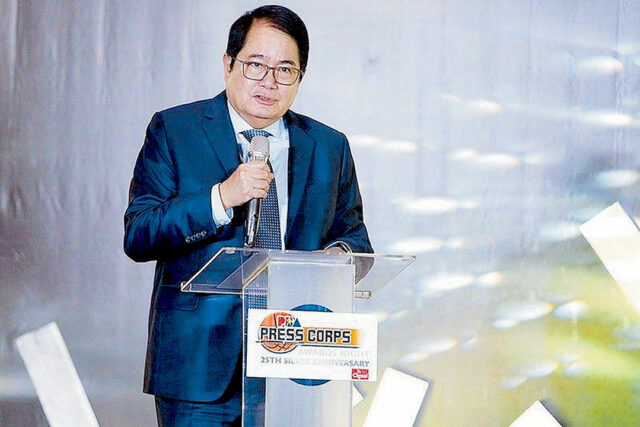 THE Philippine Basketball Association (PBA) is upbeat about recouping its financial losses during the hardest times of the pandemic as it conducts a stacked three-conference calendar for Season 47.
Chairman Ricky Vargas said after incurring a loss of P100 million in the coronavirus disease 2019 (COVID-19)-disrupted, single-conference 45th season in 2020, the pro league earned a net of about P48.8 million last year. This, he said, should provide the momentum for the PBA's targeted P200-million net in the coming season.
"It's a very positive news for us," Ms. Vargas said of the profit the PBA had from its two-conference offering in Season 46.
"We're going back to three conferences and to deliver that, we're looking at an expense of P300 million. But we're also looking at a revenue of about P500 million so essentially we're looking at a net profit of P180 to 200 million, if everything pushes through.
"That really brings us back to where we were (pre-pandemic) and hopefully regain what we lost in Season 45," said Mr. Vargas, who was joined in an online press conference by vice chairman Bobby Rosales of Terrafirma, treasurer Raymond Zorrilla of Phoenix and commissioner Willie Marcial on Wednesday.
The PBA ushers in hostilities on June 5 for the First Conference, which will run until Sept. 2. The Second Conference is slated for Oct. 2 through Jan. 25, 2023 and the Third Conference is set for Feb. 1 to May 10 next year.
In between, the league is lending players to Gilas Pilipinas and sending its Top 2 teams to the East Asia Super League hoopfest. The All-Star festivities as well as out-of-town and overseas sorties are also eyed during the last conference.
Mr. Vargas also bared the league's plan to expand to 14 teams soon.
"We want to expand the revenue base of the PBA," he said. "When it was reported that there's interest from new teams to join the PBA, we said why don't we start looking at expanding to 14 teams?"
The PBA's standalone 3×3 league, according to Mr. Rosales, will go "regional" for its next season with simultaneous tournaments in Luzon, Visayas and Mindanao culminating in a national championship.
"This is the first step of the PBA to go regional," he said. — Olmin Leyba