San Beda routs Arellano, 82-68, for solo NCAA lead
By Joey Villar
SAN BEDA drew strength from its bench in the first half and then went to main man James Kwekuteye in the second as it crushed Arellano University (AU), 82-68, on Sunday and seized the solo lead in the 97th National Collegiate Athletic Association (NCAA) basketball tournament at the La Salle Greenhills Gym.
Mr. Kwekuteye dropped 10 of his team-high 14 points in the final two quarters while relying heavily on a strong bench support in powering the Lions to their fifth straight win and into solo first place.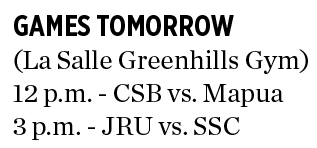 Gab Cometa, Winston Ynot, Rhayyan Amsali and Justin Sanchez stepped up big early as they came off the bench to combine for 36 of the 41 points from the second stringers in helping the cause.
"I'm so happy that the bench stepped up big today (Sunday). We need everyone to really contribute and help for us to come up with a W (win)," said Mr. Kwekuteye.
Truly, the backups were instrumental in mounting a 47-32 lead at the break.
Mr. Kwekuteye and the San Beda starters feed on the strong play of the second group and led by as much as 22 points twice, the last at 64-42 late in the third period.
The Chiefs tried to whip up a fourth quarter storm but Mr. Kwekuteye and the Lions repeatedly fended them off to preserve the win.
It also helped that the Lions made life difficult for Justin Arana, who was hobbled by foul trouble and was held to just seven shots and made only three of them and finished with just seven points and eight turnovers after coming into the game averaging 16 points.
"Basically, we have to execute coach's (Boyet Fernandez) plan to play zone and double-team him (Mr. Arana) and make him kick out the ball and we executed that," said Mr. Kwekuteye.
AU fell from solo sixth to a share of it with University of Perpetual Help and San Sebastian with 2-4 cards apiece.
The Scores:
San Beda 82 – Kwekuteye 14, Cometa 11, Penuela 9, Ynot 9, Bahio 8, Amsali 8, Sanchez 8, Cuntapay 6, Alfaro 4, Gallego 3, Visser 2, Villejo 0, Abuda 0, Andrada 0, Jopia 0
Arellano 68 – Doromal 16, Sablan 10, Valencia 9, Cruz 8, Arana 7, Concepcion 7, Steinl 4, Sta. Ana 3, Abastillas 2, Caballero 2, Oliva 0
Quarterscores: 17-15; 47-32; 66-52; 82-68