La Salle tames Santo Tomas; UP barely beats Adamson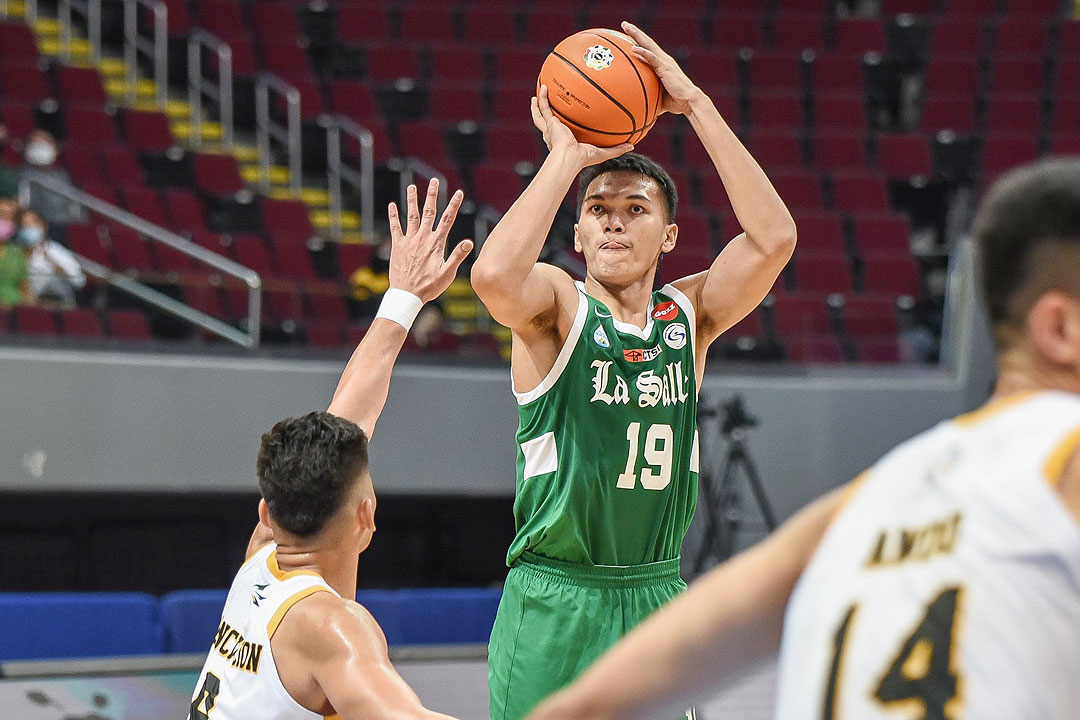 By John Bryan Ulanday
LA SALLE got back on track while University of the Philippines (UP) gutted out a close one for its fourth straight win to stay gridlocked in joint second place in the University Athletic Association of the Philippines (UAAP) Season 84 at the Mall of Asia Arena in Pasay City.
The Green Archers tamed the Santo Tomas Growling Tigers, 75-66, behind Justine Baltazar's 20 points as rookie Zavier Lucero erupted for a similar output in the Fighting Maroons' 73-71 escape act over the Adamson Soaring Falcons with fans in attendance for the first time.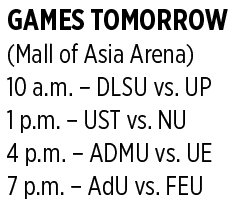 Both squads improved to 4-1, paving the way for a crucial tussle tomorrow with a solo second spot at stake nearing the end of the first round.
"It's very important for us to bounce back coming off a loss against Ateneo. That's the thing I told the boys. We had to bounce back hard and take care of business," said coach Derrick Pumaren after absorbing its lone defeat at the hands of unbeaten Ateneo last weekend, 74-57.
With Mark Nonoy struggling for just three points on a dismal one-of-six shooting against his former team, Kurt Lojera (15) and Emmanuel Galman (13) stepped up as La Salle banked on a 42-27 half time start heading home.
For the Fighting Maroons, Malick Diouf hauled down 16 points and 15 rebounds while Carl Tamayo and Ricci Rivero had 11 and 10 markers, respectively, to backstop Mr. Lucero in their near meltdown.
UP actually stared at a cold start, trailing by 11 in the opening salvo, before slowly but surely seizing the driver seat highlighted by a fourth quarter rally to erect a 73-66 cushion in the last two minutes.
Adamson, however, answered right away to threaten at 71-73 with a chance to snatch the match after Mr. Rivero's missed triple but Jerom Lastimosa buffed a potential game-winning trey of his own at the horn.
"A win is a win but after this game, we definitely need to work on our defense. We had many lapses a while ago. Going forward to our next game, we want to look at that part," said UP mentor Goldwin Monteverde.
Joshua Fontanilla (20) led the way for the Growling Tigers, whose two-game streak ended to fall at 2-3 while Lastimosa had 18 in the Soaring Falcons' third consecutive defeat to slip at 1-4.
The Scores:
First Game
LA SALLE 75 – Baltazar 20, Lojera 15, Galman 13, M. Phillips 8, Nelle 4, Austria 4, B. Phillips 4, Nonoy 3, Winston 2, Nwankwo 0.
UST 66 – Fontanilla 20, Cabanero 20, Manaytay 9, Santos 9, Concepcion 4, Ando 2, M. Pangilinan 2, Garing 0, Manalang 0, Mantua 0, Herrera 0, Yongco 0, Gomez de Liaño 0.
Quarterscores: 23-16, 42-27, 61-44, 75-66.
Second Game
UP 73 – Lucero 20, Diouf 16, Tamayo 11, Rivero 10, Cansino 9, Cagulangan 3, Spencer 2, Abadiano 2, Fortea 0, Alarcon 0, Catapusan 0.
ADAMSON 71 – Lastimosa 18, Douanga 16, Zaldivar 14, Colonia 4, Magbuhos 4, Manzano 4, Hanapi 3, Sabandal 3, Jaymalin 3, Yerro 2, Barasi 0, Erolon 0.
Quarterscores: 13-22, 39-39, 55-53, 73-71.