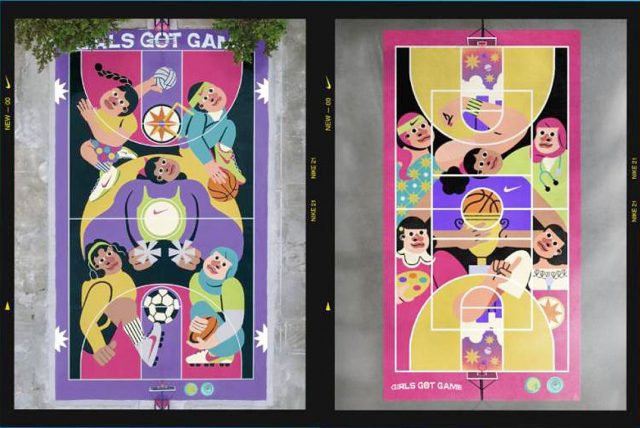 IN celebration of International Day of the Girl on Oct. 11, Nike, in partnership with local nongovernment organization (NGO) Girls Got Game, unveiled restored and refurbished courts at Sacred Heart Academy School in Sta. Maria, Bulacan.
The project was part of its goal of inspiring women around the world by giving them spaces to learn, grow and have fun, while increasing access to play and sport opportunities.
The courts were designed by artist and illustrator Jill Arteche, who is known for celebrating Filipina culture through her artwork.
"Kids are made to play, yet many in the Philippines, particularly young girls, do not have access to sports. Nike and Girls Got Game are investing in the future of kids by giving them access to tools and training they need for success, building confidence on and off the court by exposing them to positive female role models and breaking down barriers to create inclusive communities," said Jino Ferrer, country marketing manager, Nike Philippines, of their latest project.
"We hope to inspire the next generation of Filipina girls to view the refurbished courts as a symbol of their goals and dreams and that accomplishing these, however small, is what brings a sense of achievement," he added.
Illustrated on the outdoor court, which represents the "Now," are the young girls learning sports like volleyball, basketball, rugby and football while the indoor court features the young girls' ambitions of the "Future" by becoming doctors, leaders and athletes, a reminder that their dreams are within reach.
For Mariana Lopa, managing director of Girls Got Game, there is no denying that "sport has the power to transform a person, a community and even the world," which is why they are taking special pride with their partnership with Nike.
She went on to say that women have the power to be change-makers, too, something they make it a point to highlight in their sports clinics.
"Through our sports clinics, we coach them to build confidence and realize their full potential so they can have an equitable future," Ms. Lopa said.
Girls Got Game sports camps have so far helped more than 2,500 young girls across the Philippines in the 10-14 year old age group who come primarily from economically challenged households.
Just like much of affairs in sports, Girls Got Game was made to adapt with the pandemic, launching the "GGG Club" wherein it conducts sports camps online.
Both Nike and Girls Got Game view the home court as bringing a shift towards the future of sports as it will be a permanent safe place where aspiring Filipina athletes can socialize, express themselves freely and experience the joys of sport.
The International Day of the Girl is celebrated by the United Nations. — Michael Angelo S. Murillo