Biado beats Singaporean Yapp to win US Open Pool Championship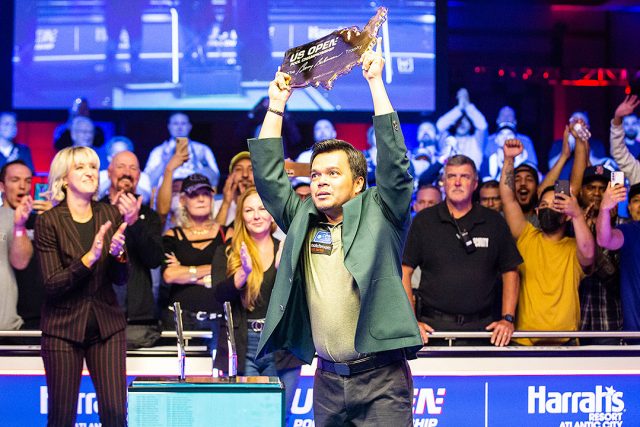 FILIPINO Carlo Biado ruled the 2021 US Open Pool Championship, coming from behind to defeat Singaporean Aloysius Yapp, 13-8, in the final early on Sunday morning (Manila time) in Atlantic City.
The 27-year-old Mr. Biado showed unflappable grit and determination to buck being down, 3-8, at point early in the championship match and turn things around en route to the huge victory.
Mr. Biado, a native of La Union, became the first pool player from the Philippines to win the prestigious tournament since Filipino legend Efren "Bata" Reyes in 1994.
With the win, he pocketed the top prize of $50,000, or around P2.5 million.
Mr. Biado started the final strong, racing to a 2-0 lead.
He, however, was not able to sustain it and saw his opponent turn the tables on him, building first a 5-3 cushion and then extending it to 8-3.
In the 12th game, the Philippine bet was given an opening when Mr. Yapp missed the nine which could have extended the latter's lead further.
From there, Mr. Biado steadily clawed his way back into the match, winning the 10 successive racks to claim the victory.
After sinking the winning shot in the 21st game, Mr. Biado yelled and pumped his fist then stood on the table in celebration.
"This event is one of my dreams. I dedicate this win to my family, my baby. This is one of the best days in my life," an emotional Mr. Biado said in the trophy presentation.
He went on to thank his supporters and sponsors as well as the organizers for staging the match despite the pandemic.
Mr. Biado's victory was also a payback of sorts for compatriot Dennis Orcollo, who lost to Mr. Yapp in the semifinals, 11-6, preventing an all-Filipino final.
"Great and sweet victory for Carlo Biado and the Philippines despite the pandemic. Hardly had Biado the time to practice during the lockdown. In 2020 because of global lockdown, he practiced by himself in his pool table at home. His triumph, after Efren in 1994, would encourage Filipinos to bring out their cue sticks again. And it's a boost to billiard sports in the country," the Billiard and Snooker Congress of the Philippines said in a statement of Mr. Biado's win.
On the road to winning the 2021 US Open Pool Championship title, Mr. Biado, also a Southeast Asian Games gold medalist, edged out Spain's David Alcaide Bermudez, 11-10, in the last 16, compatriot Johann Gonzales Chua, 11-10, in the quarterfinals and Japanese Naoyuki Oi, 11-9, in the semifinals.
The US Open Pool Championship is a nine-ball pool tournament, the longest running major pool title. The 2021 edition took place from Sept. 13 to 18 at the Harrah's Resort in Atlantic City. — Michael Angelo S. Murillo