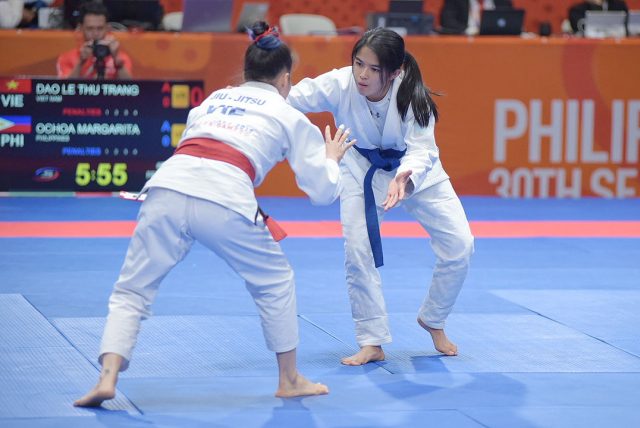 THE Philippines is set to field 160 athletes in the sixth Asian Indoor and Martial Arts Games (AIMAG) next year in Thailand, the country's national Olympic committee announced on Tuesday.
In a statement, the Philippine Olympic Committee (POC) said it has approved the number of contingent who will be competing in 21 of the 31 sports for the quadrennial pancontinental multi-sport event happening from March 10 to 20 in Bangkok with an eye on improving on the country's performance in the previous edition and building on the success that the Filipino athletes had in the recent Olympic Games in Tokyo.
"We have put together a delegation whose members are all potential for the medals," said POC President Abraham N. Tolentino. "The objective is to ride the momentum of the Tokyo Olympics success and surpass our two gold medals won in the last AIMAG in Turkmenistan in 2017.
Jiu-jitsu athletes Meggie Ochoa and Annie Ramirez accounted for the two gold medals in the 2017 AIMAG in Ashgabat, winning in the women Ne-waza -45 kgs and -55 kgs events, respectively.
The Philippines won a total of 30 medals — 14 silvers and 14 bronzes — last time around and was represented by 105 athletes in 17 of 21 sports.
Hidilyn F. Diaz, who won the country's first-ever Olympic gold medal in Tokyo, was part of the delegation to Ashgabat and bagged a weightlifting silver medal.
For the Bangkok edition, the Philippines will play in 21 sports, namely: aquatics, 3×3 basketball, billiards, bowling, chess, dancesport, e-sports, indoor athletics, indoor rowing, jiu-jitsu, karate, kickboxing, kurash, muay, pencak silat, sambo, sepak takraw, shooting, skateboarding, taekwondo and wrestling.
Mr. Tolentino said he will present the composition of Team Philippines with chef de mission Ricky Lim, president of the karate association, during the online meeting among national Olympic committee presidents and chefs de mission on Wednesday.
AIMAG gold medalist Ms. Ochoa, for her part, shared to BusinessWorld that she is hoping to compete at the sporting meet next year and defend her title.
"Yes, I hope so! But we don't know what the weight classes are yet and we have yet to know the plans of the national team for AIMAG," Ms. Ochoa said in a Messenger chat.
In a media forum hosted by sports brand Under Armour at the weekend, Ms. Ochoa admitted that the last two years have been tough for athletes like her who are involved in closed contact sports because of the coronavirus disease 2019 (COVID-19) pandemic, but she continues to train on her own and stays in shape.
"Definitely, it has been challenging because I am part of a group of athletes involved in closed contact sports. We are like the last ones to return to training and compete," Ms. Ochoa said.
"I haven't had a single competition since the SEA Games (Southeast Asian Games) in 2019. But I'm keeping it going, staying in shape."
She went on to say that there are a number of top-level competitions later this year where she hopes to compete in and use as a springboard for tournaments next year.
The sixth edition of the AIMAG was supposed to take place in May this year, but was deferred to 2022 because of the ongoing health crisis.
Forty-five countries, including 18 from Oceania, are expected to send athletes to Thailand. — Michael Angelo S. Murillo