Greg Slaughter faces former team Ginebra; TNT back in action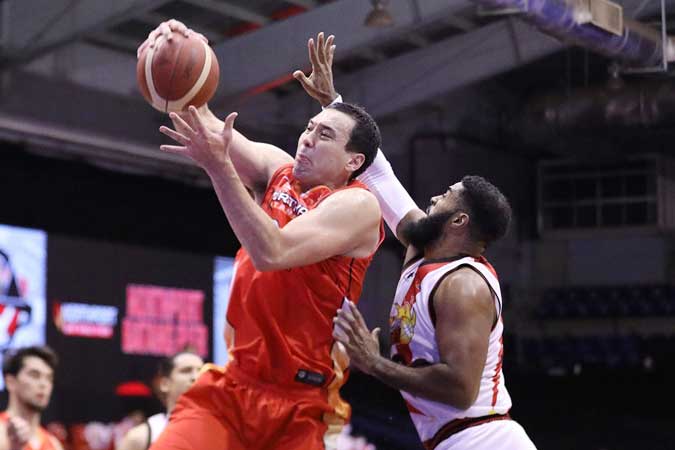 By Michael Angelo S. Murillo, Senior Reporter
EYES will be on big man Greg F. Slaughter as his Northport Batang Pier takes on his former team Barangay Ginebra San Miguel Kings in the nightcap PBA Philippine Cup offering on Friday at the Ynares Sports Arena in Pasig City.
Set for 6 p.m., the Philippine Basketball Association (PBA) match will mark the first time that seven-footer Mr. Slaughter will face the Kings since being traded for Christian H. Standhardinger in the offseason early this year.
Also set to see action are the TNT Tropang Giga, who are making their return after entering the league's health and safety protocols after four members of the team previously tested positive for coronavirus disease 2019 (COVID-19).
Barangay Ginebra drafted Mr. Slaughter, 33, in the 2013 PBA draft and won four league titles with him, including the 2017 PBA Governors' Cup where he was adjudged best player of the conference.
In February last year, he announced that he was taking a break from basketball after his contract with Barangay Ginebra expired. Some back-and-forth went between him and the team after. In February this year, he was re-signed by the Kings but later on traded to Northport for Mr. Standhardinger.
Mr. Slaughter made his debut for the Batang Pier (1-2) on July 25 after missing their first two matches. He played well, finishing with 25 points and 17 rebounds, but his team narrowly lost to the San Miguel Beermen, 88-86.
For its part, Barangay Ginebra (1-2) is coming into the game off an 89-79 loss to the Magnolia Hotshots Pambansang Manok also last Sunday.
The defending Phillippine Cup champions are struggling early in the tournament and are looking to pick things up.
Meanwhile, TNT resumes its campaign after its matches were temporarily shelved beginning last week over COVID-19 protocols.
The team got clearance to return on Tuesday following retests.
The Tropang Giga (1-0) plays the Rain or Shine Elasto Painters (3-1) at 3 p.m.
In its lone game so far, TNT defeated the Terrafirma Dyip, 89-76, on July 17.
Four TNT players scored in double digits in the victory led by Jayson Castro's 17.
Rain or Shine, meanwhile, absorbed its first defeat in four matches last time around, losing to the Alaska Aces, 74-48.
The other game slated for Friday is between Terrafirma (0-2) and Magnolia (3-0) at 12:30 p.m.