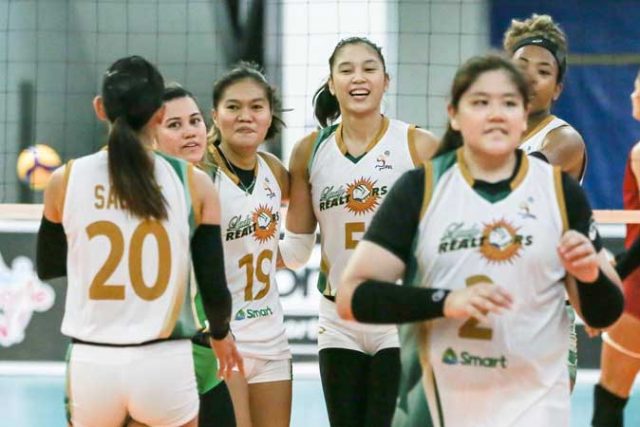 The Sta. Lucia Lady Realtors averted massive collapse to beat the Chery Tiggo Crossovers in five sets, 25-20, 25-12, 24-26, 21-25, 15-10, in Premier Volleyball League Open Conference action on Wednesday at the PCV Socio-Civic & Cultural Center in Bacarra, Ilocos Norte.
MJ Philipps led the way for Sta. Lucia, which lost a two sets-to-none lead in the game before hanging tough in the end. She scored a game-high 23 points, 16 coming off kills and five from blocks.
The Lady Realtors were seemingly on their way to a surprise easy win over the Crossovers until the latter made their charge back in sets three and four to force a deciding frame.
The teams went back and forth early in the fifth set until Jovielyn Prado towed Sta. Lucia to create some separation, 10-7, midway.
Dindin Santiago-Manabat pushed Chery Tiggo to within two points, 12-10, after, but it was the closest they could get as the Lady Realtors went on to seal the win.
Ms. Prado finished with 19 points for Sta. Lucia, which improved to 3-3 in the ongoing PVL tournament. Jonah Sabete added 18.
For Chery Tiggo, it was Ms. Santiago-Manabat who top-scored with 20 points, followed by her sister Jaja Santiago with 14 points.
The Crossovers now sport a 3-2 card. — Michael Angelo S. Murillo