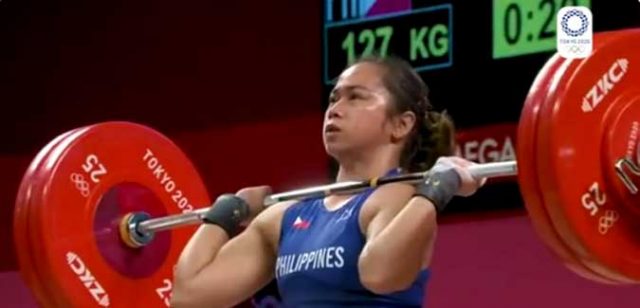 After securing the Philippines' first-ever Olympic gold medal at the 2020 Tokyo Olympics on Monday, Hidilyn F. Diaz is being rewarded with numerous perks by private companies, including a condominium unit in Eastwood, a house and lot anywhere in Luzon, and a lifetime's worth of free fuel and free flights.  
"This epic moment is about 97 years in the making, and this is our way of saying thanks to Hidilyn for making us all proud. We believe that it's just right to give our first-ever Olympic gold medalist a home in our first-ever township, Eastwood City, where she can enjoy the township lifestyle with her family and loved ones," said Kevin L. Tan, chief strategy officer of property giant Megaworld Corporation, which is awarding the Olympian a condominium worth P14 million. 
PHirst Park Homes, an affordable housing project under Century Properties and Mitsubishi Corporation, has also granted Ms. Diaz her choice of a house-and-lot package worth P4 million in any of PHirst's eight existing communities in Luzon. 
Adding to the medals and properties under her belt is free fuel for life and another P5 million from Phoenix Petroleum, the third largest oil company in the country. This will be given via Siklab Atleta Pilipinas Sports Foundation, Inc., launched in 2018 as an initiative that helps athletes through sponsorships, one of which was granted to Ms. Diaz herself back in 2019. 
"It's all the more special for us because she is a Phoenix-athlete whose tough journey has finally given our country its first Olympic gold medal," said Raymond T. Zorrilla, Phoenix Petroleum's senior vice-president. "Our hope is that this is only the beginning of a golden era for Philippine sports and that more entities from all sectors extend support so we can have more golds in the future." 
Ms. Diaz's mobility in the air will also be guaranteed thanks to Philippine Airlines, which is giving her 80,000 free miles per year, for life; and the AirAsia Group, which is giving the 30-year-old Zamboanga native a lifetime of free flights.  
"We want all ASEAN to believe that they can always make it happen," said Anthony Francis "Tony" Fernandes, AirAsia Group's chief executive officer. "Amidst challenges and struggles as we go forth with recovery, Hidilyn reminds us that no matter how heavy the weight we are carrying, inner strength, perseverance and a heart of gold will help us power through." 
These perks will be given in addition to the P10 million incentive mandated by the Philippine Sports Commission Act, or Republic Act No. 10699. — Brontë H. Lacsamana