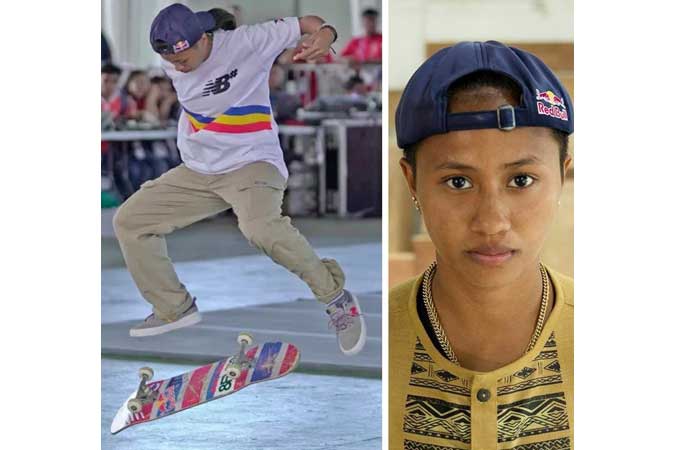 SKATEBOARDING makes its Olympic Games debut in Tokyo and Filipino athlete Margielyn Didal is basking in the opportunity to compete in it.
Ms. Didal, 21, has seen the sport grow in the country and increase in popularity in the past few years, and she said it is an honor to represent Philippine skateboarding in the Games.
"In the past, skateboarding was not taken as a serious sport and then three years ago, we learned it will be part of the Olympics. It was a big development," said Ms. Didal in a recent media conference hosted by Red Bull.
"We have been waiting for this for a long time. I'm really excited to compete in the first-ever Olympics for skateboarding," she added.
The Cebu native qualified for the Olympics because of her World Skateboarding Rankings in the street event which has her at 17th place.
Despite being outside of the top 16 which are allotted automatic spots for the Games, the Philippine bet managed to squeeze in since two of the three podium finishers in the recent Skateboarding Worlds in Rome, where three Olympic spots were up for grabs, were already in the top 16.
One spot is also allotted for Olympic host Japan to complete the 20-man Olympic street skateboarding field. Only three athletes per country, however, are allowed.
Ms. Didal said that while she is happy to qualify for the Olympics, it is only half of the quest and that she has to go out and compete against a field she acknowledges to be tough.
"It's really going to be tough in Tokyo. We have strong competitors from Brazil, US, and Japan. All those countries have the best skate parks, they have their own facilities everywhere in their country and hometown. They have a lot of skateparks so they can train without traveling, so that's the biggest gap, but I'm positive that I can do it," said the 2018 Asian Games gold medalist.
Ms. Didal went on to say that early in the pandemic last year, her preparation took a hit as she could not go out and train with quarantine restrictions raised in her hometown in Cebu.
Eventually though, with help from Red Bull, she got to build her skate facility where she got to work on her game and develop new tricks for use in the Olympics.
"I have my own bag of tricks that they don't have, so we'll see how it goes," Ms. Didal said.
The Tokyo Olympic Games happens from July 23 to Aug. 8. Ms. Didal plunges into action in the women's street skateboarding event on July 26.  — Michael Angelo S. Murillo